If you need a break from rich holiday foods but are still craving something sweet, this recipe should do the trick. It's a chewy, bar cookie made with All-Bran cereal, whole wheat and white flour, chocolate chips and nuts.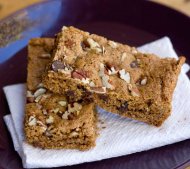 I found oy on the All-Bran website while searching for sweet & healthy snacks. The recipe was almost perfect to begin with, but I tripled the chocolate chips and added pecans, anyway. That turned out to be a good call, because without the extra goodies, the bars might have tasted a little too healthy. But don't let that description scare you, because the cookies are still delicious and very good with a cup of tea or coffee.
A chocolate chip cookie bar made with whole-wheat flour and All-Bran® cereal.
Author: Cookie Madness
Recipe type: Dessert
Cuisine: American
Serves: 24
Ingredients
1 1/4 cup Kellogg's® All-Bran® Original cereal
1/2 cup whole wheat flour, stir well, aerate and measure lightly
1/2 cup all-purpose flour, stir well, aerate and measure lightly
2 teaspoons baking powder
1/4 teaspoon salt
1/3 cup vegetable oil
1 large egg
1 1/2 cups firmly packed brown sugar
1 teaspoon vanilla
3 tablespoons water
3/4 cup semisweet or dark chocolate chips
1/3 cup chopped pecans (optional)
Instructions
Line a 9x13 inch metal pan with nonstick foil or regular foil. If using regular foil, spray lightly with cooking spray.
In a small bowl, stir together bran cereal, flours, baking powder and salt. Set aside.
In large mixing bowl, whisk together oil, egg and sugar. Stir in vanilla and water. Add cereal mixture, stirring until well combined. Stir in chocolate chips.
Spread evenly in the pan. Sprinkle nuts over the top (if using).
Bake at 350° F about 30 minutes or until golden brown.
Let cool completely, then lift from pan and cut into 16 or 24 bars or squares.
Notes
For a half batch, halve all the ingredients and just use 2 tablespoons of lightly beaten egg. Bake in an 8 inch square metal pan for about 25 minutes. This recipe is from the All Bran recipe collection.
Source: www.cookiemadness.net
Related posts: