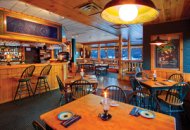 For a small mountain town, Jasper offers a surprising variety and number of restaurants for the visitor. Whatever your taste, you are certain the find the appropriate restaurant to suit your palate as Jasper features everything from gourmet and fine dining to casual and fast food.
There are also a variety of Ethnic restaurants to choose from. These include Cassio's Italian Restaurant in the Whistler's Inn which features many authentic Italian dishes. The Cassios have been operating Italian restaurants since 1947! Miss Italia Ristorante is another long time Italian restaurant in Jasper and they take pride in their romantic and warm atmosphere which serves up authentic Italian favourites. Superb Greek dishes and steaks are served at Something Else Restaurant who have been a fixture in Jasper for over 27 years.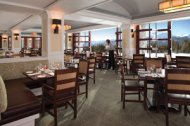 Korean cuisine is featured at Kimchi House on Patricia Street, Their specialties include marinated beef ribs, hot and spicy chicken, assorted seafood with vegetables and boiling hot pots (including spicy kimchi and pork).
The heritage of Jasper is nowhere more evident than in The Moose's Nook at the Fairmont Jasper Park Lodge. Enjoy an evening of true Canadian fine dining as you sit by a roaring fire, listen to live music and savour creative regional cuisine. At the historic Athabasca Hotel, O'Sheas Restaurant offers the charm and ambiance of days of old complimented with an array of comfort food for breakfast, lunch and dinner. The award-winning Walter's Restaurant at the Sawridge Inn features a wide array of fine dining Canadian inspired dishes with nuances of native cuisine.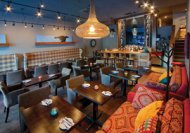 Dining with fabulous views is also available and there is no better view than the Treeline Restaurant at the Jasper Tramway, atop Whistlers Mountain. Overlooking Lac Beauvert with stunning views of Mount Edith Cavell, and Whistlers Mountain, Cavell's Restaurant and Terrace offers an extensive menu serving Canadian culinary delights from coast to coast.
Jasper also has many superb restaurants throughout the downtown area. Villa Caruso is a long-established Jasper favourite and features a selection of exquisite dishes such as slow roasted prime rib, AAA Alberta beef, back ribs, deer tenderloin, wild boar chops, rack of lamb and more. The Olive Bistro & Lounge features an eclectic entree list, as well as a tasty selecting of small sharing plates. They also feature live music on select evenings and summer patio dining. Raven Bistro has an interesting and quaint decor and a menu that would please the most discerning diner. Fiddle River Restaurant is Jasper's premier fresh seafood restaurant, but the menu also includes wild game and Alberta AAA beef.
Source: www.atasteofjasper.com
iPhone6 Plus Sports Armband, Nancy's shop Easy Fitting Sports Universal Armband With Build In Screen Protect Case Cover Running band Stylish Reflective Walking Exercise Mount Sports Sports Rain-proof Universal Armband Case+ Key Holder Slot for Iphone 6 Plus (5.5 Inch) (Dark blue)
Wireless (Deego)
Designed specifically for iPhone 6 Plus, Lightweight armband keeps your phone secure and protected.
Water Resistant and sweat-proof funtion to better protect your mobile phone, make you feel more comfortable during exercise,Due to varying color display...
Built in Reflective strip for safe running in low light conditions. Built-in Key holder. Cutouts for easy access to headphones port and controls. A sweat resistant...
Material: Lightweight soft neoprene that is molded to twist and bend but will not stretch out of shape. Washable with gentle soap and water, then air dry. Can keep...
Functionality: Provide excellent protection during sport, such as running, biking, jogging, walking, working out etc. Touch screen works through the clear cover
Related posts: