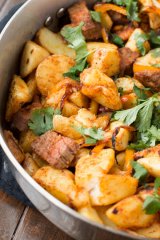 You guys, I ate so much junk over the holiday break. Seriously. I cannot even believe what a sweet tooth, late night snacking minion I became. I've never had that happen before, but apparently I was really worn out this year and needed to eat my exhaustion away. Now that we are back into a schedule I'm ready to hunker down and get smart about meals again. A few of us bloggers figured you all might be feeling the same so we joined forces with Alexia to bring you some of our favorite lighter meals that are easy to prepare, taste incredible and will not make you feel like you need a wheelbarrow to haul you away from the table. And scroll to the bottom because there is also a giveaway worth over $600!!
So, here's why we chose to use Alexia, other than we all are obsessed with their product, Smart Classics Fries and Potatoes are all 98% fat-free and have just 100 calories per serving.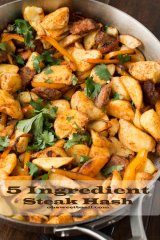 Boom! How's that for healthy and easy since you don't have to waste your time peeling, chopping, boiling etc? We knew exactly what recipe we wanted to share to help our readers eat a smarter dinner and that's Cade's steak hash. It's awesome and appears on our table alllllll the time. Plus not only can you check out the entire party of recipes below, but we all are going to throw a twitter party with all of you! Here's the details….
When: January 16th
Where: Twitter (just follow @ohsweetbasil @tasteandtell @sweettreatsmore and we will direct you to the other bloggers) and make sure all of your tweets include #getsmart for the hashtag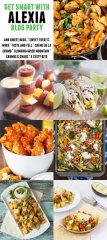 When: 8pm EST
And like I said, we've teamed up with your favorite bloggers to bring you a whole party of ideas. Everything is a little on the lighter side, but packed full of flavor. I am pinning every recipe to make this January and I can't wait!
a Rafflecopter giveaway
And on a side note, can we please talk about resolutions? I asked on facebook a few days ago what everyone thinks about resolutions and was surprised to find that I'm not alone in my not setting them. For me I've just found that resolutions really don't stick. Instead I've been setting small goals throughout the year and working towards those. It's actually been working great. One of my goals last year was to take better care of my body. I just wanted to make better decisions about what I'm eating, how much, drinking my water and keeping priorities in order. I can't even begin to tell you how happy, healthy and peaceful this last year has been. It's nice to feel more balanced. I'd love to hear what you all think about setting health goals versus dieting resolutions and more!
This easy meal comes together in no time and is kid and husband approved!
Ingredients
3 teaspoons olive oil, divided
3 bell peppers, sliced, seeds and top removed
1 small onion, sliced
4 teaspoons paprika
2 teaspoons garlic salt
cilantro * optional for garnish
for the steak
1 Flank steak
2 teaspoons season salt
Source: www.ohsweetbasil.com
Omaha Steaks All-American Breakfast


Grocery (Omaha Steaks)




20 Breakfast Pork Sausages
4 Cheddar Cheese Hash Browns
Related posts: