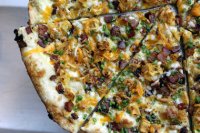 The "I'm Shipping Up to Bacon" special will be available from Sept. 22-28 at its two locations, 3463 N. Clark St. in Wrigleyville and 1615 N. Damen Ave. in Wicker Park. The breakfast-buffet-masquerading-as-a-pizza features cured bacon, mini waffle bites, hash browns, scrambled eggs, cheddar, green onions and, to top it all off, whiskey-infused syrup.
Kyla Gardner highlights the best options, and where she caught wind of this story:
In honor of the Dimo's creation, here are seven places to snag breakfast-themed pizza around the city when last night's cold leftovers just won't do:
Standard Market Grill, 444 W. Fullerton Parkway, Lincoln Park
Brunch goes from 11 a.m. to 2 p.m. each weekend, and you can have your pick of two gourmet breakfast pies: the Morning Glory, with manchego cheese, applewood-smoked bacon, scrambled eggs and oven-dried tomato; and the Early Riser, with goat cheese, kale, asparagus, over-easy egg and roasted beets. The recently debuted breakfast pizzas go for $11 each.
Homeslice Wheel House, 938 W. Webster Ave., Lincoln Park
Homeslice's "Shampoo Effect Brunch" begins at 11 a.m. Saturday and Sunday. The $11 "Breakfast Za" features eggs and black pepper over bacon and cheddar. The Bloody Mary also comes with a cold slice.
110 E. Pearson St., Gold Coast
The Gold Coast restaurant offers bagel pizza, with cured salmon, dill creme fraiche, tomato, pickled red onion and capers. Sunday brunch goes from 11 a.m. to 3 p.m. every Sunday, and the bagel pizza is $19.
Frasca Pizzeria and Wine Bar, 3358 N. Paulina St., Lakeview
Brunch starts at 10 a.m. Saturdays and Sundays. The $12 breakfast pizza features three over-easy eggs, sausage, bacon and cheese. For an extra $3, you can add prosciutto and hollandaise.
Whole Foods, locations in Gold Coast, South Loop, Lincoln Park, Lakeview
The grocery store offers a ready-made pizza with bacon, egg, cheese, spinach and red pepper at its city locations. Get two slices for $6 or one for $3.50.
See also:
Source: www.dnainfo.com
Galaxy S5, Galaxy S6,galaxy S6 Edge Sport Armband , Nancy's Shop Easy Fitting Sports Universal Running Armband with Build in Screen Protect Case Cover Running Band Stylish Reflective Walking Exercise Mount Sports Universal Armband Case+ Key Holder Slot for Samsung Galaxy S 5 , Samsung Galaxy S6,samsung Galaxy S 6 Edge (Black)
Wireless (Deego)
Designed specifically for Samsung galaxy S 5 , Samsung galaxy S6,Samsung galaxy S 6 Edge
Exercise your right to a case is also a Sports Armband. Stays put while you run. Touch screen works through the clear cover
Built in key holder to help minimze carrying extra items while you excercise. Secure your device worry free and free your hands! Listen to your music with your hands...
Strong light weight exclusive neoprene material that protects your device.
Able to access to headphones, buttons, touchscreen feature on the cell phone.
Related posts: