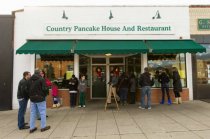 Print
STEVE HOCKSTEIN/special to THE RECORD
Standing room only: Brunchers waiting outside the Country Pancake House and Restaurant in Ridgewood on a Sunday morning. (Photo by STEVE HOCKSTEIN/special to THE RECORD)
It was 38 degrees and breezy, but that did not discourage Artie Stoll and his family from waiting patiently on the broad sidewalk in the center of Ridgewood, a few steps from Van Neste Park, the village green.
It did not deter the Caterino family, either, or the daughters and granddaughters of Anna Nicolich — there to celebrate her 85th birthday — or many others from spending a late Sunday morning during the holiday week milling about in the chilly air.
The quest for which they waited with such calm anticipation?
Pancakes.
Not just any pancakes, to hear them tell it, but pancakes larger and more varied than any around. Or 25 different kinds of French toast or tasty soups or huge, unusual omelettes.
For 20 years, crowds have been gathering on Sunday mornings outside the Country Pancake House on East Ridgewood Avenue, waiting in bitter cold or oppressive summer heat for the opportunity to be invited inside when a prized table comes free. This North Jersey ritual draws people from far and wide.
On this particular morning, there was an added twist: Only a block away, a celebrated Montclair establishment had just opened a long-anticipated new outpost in the middle of Ridgewood.
The battle for brunch had been joined.
Raymond's, an extremely popular restaurant on Church Street in downtown Montclair, began life as a tiny storefront offering unusual gourmet breakfasts a few doors down from its current, much larger location.
Although it had opened its doors in Ridgewood just a week or two earlier, the word of mouth had clearly been robust. A crush of people filled the front entrance to Raymond's and spilled onto the sidewalk.
Despite this new competition — and the longstanding presence of the Daily Treat, a traditional luncheonette down the block in the opposite direction — open tables remained elusive at the Country Pancake House.
The wait in the brisk late December air required people to demonstrate willpower, if not outright stoicism. Stoll, his wife, Jill, and their daughter, Morgan, had driven 35 miles from Fort Montgomery, N.Y., just south of West Point. He said he had first heard about the pancake house a few weeks ago while watching a show on the Travel Channel that highlighted what the network called the 10 best breakfasts in America.
Source: www.northjersey.com
Table Mats background in grunge style with splatters and hand letter Image 2094301 by MSD Customized Tablemats Stain Resistance Collector Kit Kitchen Table Top DeskDrink Customized Stain Resistance Collector Kit Kitchen Table Top Desk
Home (MS Depot)
MADE IN USA. Designed, Printed and Shipped out of our California Facility. Item is sold under our Private Brand MSD ONLY. 100% Satisfaction GUARANTEED, be aware...
State of Art printing technology, 8-Color offset lithography printing to ensure the HIGH RESOLUTION, LONG LASTING and exceptional image Quality. While most of the...
COPYRIGHTED material. Non-exclusive display rights granted to MSD . Thousands of Royalty Free Stock Images available and UPDATED DAILY. Search and visit our Amazon...
Our products are HANDMADE and Custom Printed upon Order. Due to HANDMADE processing may take 1-2 business days. Please Visit us for more Cell phones, Tablet cases...
High quality cloth weave surface bonded to a special NON-SLIP natural Eco-Friendly rubber base to enhance precise tracking, effortless control, steady surface support...
Galaxy S5, Galaxy S6,galaxy S6 Edge Sport Armband , Nancy's Shop Easy Fitting Sports Universal Running Armband with Build in Screen Protect Case Cover Running Band Stylish Reflective Walking Exercise Mount Sports Universal Armband Case+ Key Holder Slot for Samsung Galaxy S 5 , Samsung Galaxy S6,samsung Galaxy S 6 Edge (Black)


Wireless (Deego)




Designed specifically for Samsung galaxy S 5 , Samsung galaxy S6,Samsung galaxy S 6 Edge
Exercise your right to a case is also a Sports Armband. Stays put while you run. Touch screen works through the clear cover
Built in key holder to help minimze carrying extra items while you excercise. Secure your device worry free and free your hands! Listen to your music with your hands...
Strong light weight exclusive neoprene material that protects your device.
Able to access to headphones, buttons, touchscreen feature on the cell phone.

Deego Fashion Graphic Design Hard PC Lightweight Case Slim Anti-Scratch Protector Skin Back Cover With Transparent Borders for Samsung Galaxy S4/S IV/I9500 (Bling Breakfast)


Wireless (Caseby)




Specially designed for Samsung Galaxy S4
Exposed buttons and port openings for quick and easy access
Colorful design adds style and character to your CellIphone
Secure, slim and lightweight case protects your device from scuffs and scratches
Simple, elegant, functional, the Vibrance Case features a refined design, vibrant colors, and lasting protection.
Related posts: