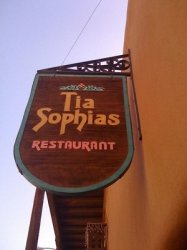 I keep coming back to Santa Fe. You just can't go wrong in a town with more art galleries per capita than any other city. But Santa Fe also boasts having the largest concentration of fantastic South Western-style restaurants in the region, many of which are at their best at breakfast. Huevos rancheros, breakfast burritos, even blue corn pinon pancakes — do not oversleep in Santa Fe or you may miss the day's best meal. After intensive research (involving several eating trips) and consultation with Kathy Barco's and Valerie Nye's informative guide, I have determined the top three places you must go (preferably before 8 a.m. to avoid lines) for a true New Mexican breakfast.
Like many great breakfast diners around the country, Tia Sophia's was started by Greek immigrants. But this place, located just off the Plaza in Santa Fe, is authentic southwestern. This is the place to get your feet wet if you haven't yet experienced the cuisine.
The restaurant caters to novices and the menu disclaims "not responsible for too hot chile." I'd recommend acclimating yourself to the altitude of Santa Fe and the spiciness of its cuisine with huevos rancheros — two eggs with chile, cheese, refried beans, and a flour tortilla to sop up the delicious mess. But then you're faced with a tough decision: are you a red or green chile person? In Santa Fe the population is split evenly between red and green. (Photo courtesy Yelp/)
It's the culinary equivalent choice of dry rub or wet in Memphis, tomato or vinegar barbecue sauce in North Carolina, Sally's or Pepe's in New Haven, or Pat's or Geno's in Philly. You define yourself by your preference. Don't know what type of chile-head you are yet? No worries. Just ask for Christmas and they'll paint your egg, cheese, and beans half-red and half-green. I'm fond of saying that everyday I'm in Santa Fe is Christmas, as I've been going back for years and still can't decide.
Source: www.thedailymeal.com
Santa Fe Culinaria Blue Corn Pancake Mix 15 Oz


Grocery (Santa Fe Culinaria)




Enjoy the taste of the Southwest with this blue corn pancake mix made in Santa Fe, New Mexico
A blend of finely ground organic Hopi heirloom blue cornmeal, unbleached spring wheat, organic oat flour and organic soy flour for a delicate texture and unique...
15 oz bag
Related posts: