Where do I even start with this book?
First of all, Vonnegut has an amazing way with words. That's what keeps me coming back again and again. He can make the most mundane thing not only interesting, but the funniest thing you've ever read. Speaking of that, there's quite the exposition on beavers...and not the one who makes dams.
It's really hard to explain this book. The actual "story" that's told could probably be told in a single long-ish paragraph (which Wikipedia actually does quite nicely). So, not even a full page. The rest of the book is filled with anecdotes, allegories, drawings (I'm told, I listened to it), and any other type of random tangent. Really, and not unlike any other Vonnegut book I've read, the entire book is one long tangent. But with Kurt at the wheel, it's never a bad thing.
Breakfast of Champions [US] [UK] [Kindle] is the story of Kilgore Trout - a science fiction writer - who is invited to an art festival in Midland City. Trout is a recurring character in Vonnegut's work, appearing in Slaughterhouse Five among others. He's not well known, at least personally, but his stories are well known by fans of smut magazines, which are the only places his works are published. Hence the beaver exposition I mentioned earlier.
We are also told in the beginning that it is because of one of Trout's novels, which become famous in Midland City, that Dwayne Hoover, a rich resident of Midland, believes he is the only being on earth with free will and that everyone else in the entire world is a robot.
While the plot in and of itself is hilarious, it's the tangents that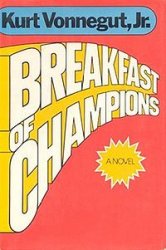 really make this book a great one. Vonnegut even explains in the beginning, he needed a place to get all his ideas out, or "clear his head of all the junk."
Since Kilgore Trout is a science fiction writer, Vonnegut tells us idea after idea for science fiction novels that I'm sure he was just cracking up about, but could never actually write into a full novel or even short story.
Trout's main themes have to do with communication breakdowns - aliens who can only communicate in farting noises, aliens who are too small to communicate an important message, a planet of cars that has car babies and who end up on earth and can't communicate with humans. It is worth reading just for these gems.
Speaking of tangents, at one point, Vonnegut starts telling about average penis sizes and for the rest of the story explains what size penises each male character has. And let's be honest, if you're going to describe a character, this is one telling bit of information.
Source: onlythebestscifi.blogspot.com
Wheaties, 30's Print Ad. Full page Color Illustration (Breakfast of Champions)Original Vintage 1937 Pictorial Review/ Delineator Magazine Print art


Home ()




This is the original magazine print ad. (perfect for framing)
page size approx. 10 1/4 x 13 1/4 ,Authentic original Art. collect frame and enjoy
This is not a Reproduction, but actual Bits Of History
original advertising art from the Golden Age of American Illustration
Genuine Historic Print,/ memories are the essence of civilization.

iPhone6 Plus Sports Armband, Nancy's shop Easy Fitting Sports Universal Armband With Build In Screen Protect Case Cover Running band Stylish Reflective Walking Exercise Mount Sports Sports Rain-proof Universal Armband Case+ Key Holder Slot for Iphone 6 Plus (5.5 Inch) (Sky blue)


Wireless (Deego)




Designed specifically for iPhone 6 Plus, Lightweight armband keeps your phone secure and protected.
Water Resistant and sweat-proof funtion to better protect your mobile phone, make you feel more comfortable during exercise,Due to varying color display...
Built in Reflective strip for safe running in low light conditions. Built-in Key holder. Cutouts for easy access to headphones port and controls. A sweat resistant...
Material: Lightweight soft neoprene that is molded to twist and bend but will not stretch out of shape. Washable with gentle soap and water, then air dry. Can keep...
Functionality: Provide excellent protection during sport, such as running, biking, jogging, walking, working out etc. Touch screen works through the clear cover
Related posts: