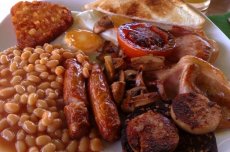 A traditional 'full English' breakfast (Photo by Jrv73)
The 'full English' breakfast – made up of sausages, bacon, eggs, tomatoes, toast and some black pudding if you're so inclined – is a firmly established national dish.
Yet, while fried food has been eaten for centuries, the meal wasn't adopted as 'English' until the 20th century.
Its name grew as the meal was increasingly seen as an alternative to decidedly healthier 'Continental' breakfasts of pastries and fruit juices offered to tourists in Britain.
But the English aren't the only ones claiming the fry up. The 'full Scottish' includes potato scones, while the 'full Welsh' comes with laverbread cake and the 'Ulster fry' with soda bread, or there's the Canadian 'Lumberjack Breakfast', complete with pancakes.
Source: www.historyextra.com
Related posts: