Many thanks to our tea taster panel who this month had the delights of tasting Steenbergs English Breakfast Tea: a strong, aromatic blend of organic Fairtrade teas from Sri Lanka and Assam, Kerala and Darjeeling in India; and Steenbergs Green Tea with Jasmine: a delicately flavoured green flower tea from China. Two very different teas with unique flavours and we loved hearing how, when and why you enjoy drinking them.
Steenbergs organic Jasmine Green Tea
We asked you to describe the flavour and aroma of the tea and the predominant descriptions were floral, sweet, light, fresh, delicate and (luckily!) jasmine.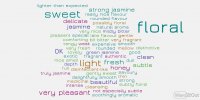 Interestingly one of you who wasn't keen on the flavour of scented teas still loved the aroma! We did love the fact that one of our panel likened the tea to 'coming home – similar to a pair of cashmere bedsocks!'
We were also fascinated to find out how it made you feel, with many of you saying relaxed, refreshed and healthy – what more could you want from a tea! Other notable quote included: 'both myself and my 2 year old give a big thumbs up to the Jasmine Green Tea'; 'much nicer than jasmine flowers which I find too heady or sickly'; 'warm climes with jasmine abundant on every corner'; 'evokes holiday & summer memories'; and 'floral with perfect level of bitterness'.
Around half of our tea panel were already green tea drinkers with a wide scope of brands and varieties regularly enjoyed, including long jing and gunpowder.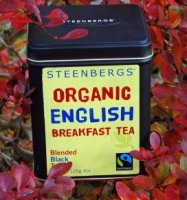 Brewing of the tea averaged 4-5 minutes but again it was often down to personal preference.
When assessing the overall preference for teas, the Jasmine was more popular than the English Breakfast. However, other interesting teas were mentioned such as Silver Needles, Gingerbread Chai, Redbush, Rose & Bergamot & Happy Hippy, all making it into your top tea choice. It shows the great range and variety of teas available to us now, with green, white and herbal teas vying for position with our traditional black teas to be your favourite. We certainly had an expert panel though, with 76% of you championing tea as your favourite daytime drink.
Steenbergs organic Fairtrade English Breakfast Tea
With comments such as: 'good balance of high & low tones', 'good subtle flavour' and the ultimate accolade of being 'better than PG', many of you enjoyed the flavoursome qualities of this black tea, although a few of you did feel that it could be more intense and fuller in flavour.
Our tea tasters were evenly split in their desire to try it with or without milk, with 63% preferring to drink it in the morning than any other time of day.
Source: www.steenbergs.co.uk
Choice Organic English Breakfast Tea, 1.1 Ounces 16-Count Box (Pack of 6)


Grocery (Choice ORGANIC TEAS)




Fair Trade Certified
Certified Organic
Ships in Certified Frustration-Free Packaging
Choice Organic Teas Decaf English Breakfast Tea, 16-Count Tea Bags (Pack of 6)


Grocery (Choice ORGANIC TEAS)




Fair Trade Certified
Non-GMO Verified
Food Service Suitable
Certified Gluten-Free

Irish Breakfast Tea Blend Organic & Fair Trade - 1 lb


Health and Beauty (Frontier)




Description: TEA,OG,FT,IRISH BREAKFAS Size: # Brand: FRNTHB
Attributes: 95+% Organic, (Please check the manufacturer s details for contents as we are unable to guarantee ingredient details and they may change without notice).
Related posts: