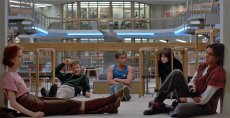 Writer-director John Hughes was never shy about demonstrating just how insensitive parents can be to their children. In The Breakfast Club, he waits all of three minutes to do just that. "Get in there and use the time to your advantage, " Brian Johnson's mother barks in the opening moments of a movie that has become for many the encapsulation of the teenage experience. When Brian (Anthony Michael Hall)—the "brain, " the most gifted and troubled of the five kids about to serve a Saturday's worth of detention—calmly explains that he's not supposed to study because detention is a time to "sit there and do nothing, " his mother, played by the actor's actual mother, Mercedes Hall, shoots back: "Well, mister, you figure out a way to study."
It's a harsh moment, but particularly harsh on second (or by now, more like 850th) viewing, when the audience knows Brian is being punished for bringing a flare gun to school, and that he had somewhat improbably planned to use that gun to commit suicide due to the mountain of academic pressure his parents pile on him. Under the circumstances, his mom should probably take it down a notch.
But the first time I saw The Breakfast Club, in 1985, at age 12, I didn't know all that yet. To me, Mrs. Johnson just seemed like a believably fed-up parent who sets rigidly high, semi-unfair standards for her son. In other words: the classic nagging, high-maintenance mom, a figure I recognized. I watched that scene and thought: That sounds like something my mom might say to me. In 2015, as a mother myself, I watch The Breakfast Club and think: In a context that doesn't involve the specter of suicide or a flare gun that went off in a locker, I can imagine saying the same thing to my own son someday.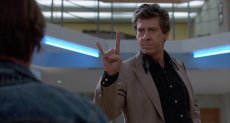 At the risk of quoting one high-school movie while discussing another, that's the thing about fans who watched The Breakfast Club in first release, seeing it now: We've gotten older, but it stays the same age. Technically, the masterwork of John Hughesian teen cinema turns 30 this year, a milestone that's currently being celebrated with a new Blu-ray release, a special screening at South By Southwest, a re-release in theaters later this month, and, of course, a healthy smattering of celebratory articles. But in many ways, The Breakfast Club will always feel like a teenager, or at least a 97-minute expression of the hormonally charged mix of insecurity, defiance, angst, and hubris that pumps through the blood of many American teenagers. It's impossible to watch it and not feel those old John Bender fist-pumping feelings all over again, especially for people who came of age in the mid-1980s and saw The Breakfast Club so many times that it seeped into their pores faster than a dollop of Clearasil. For them, for us, it feels even more personal, like a badge of our generational identity.
Source: thedissolve.com
Modern Fantasy Bronze-tone Sparkle Star Lovely Heart Cute Bowknot Unisex-child Mutriple Braided Rope Leather Wrap Bracelet


Jewelry (Modern Fantasy)




Dispatched and sent out in a delicate blue lucky pocket
High quality durable leather
Pendant style necklace designed for children
Jewery fits your lifestyle
It is about 5.7 inches long
VTech CD1113 Black Trimstyle Phone with Caller ID


Wireless (VTech Communications)




Last number redial
slim phone
compact
crystal clear
inexpensive
Melissa & Doug K's Kids Twisting Inchworm Rattle


Toy (Melissa & Doug)




Made using the highest quality materials
Tested to be safe and durable
Great fun for your baby and child
Colorful, clicking, rattling grasping toy
Easy for babies to grip and grasp
Segments rattle and click as they turn
Part of Melissa & Doug K s Kids line of early developmental toys
Great for these skills: sensory, fine motor, and emotional

Melissa & Doug Let's Play House! Stir and Serve Cooking Utensils


Toy (Melissa & Doug)




Made using the highest quality materials
Tested to be safe and durable
Great fun for your baby and child
Dishwasher-safe, food-grade metal utensils
Sized for kids, play kitchens, and all Let s Play House! accessories
7-piece set includes: whisk, ladle, spatula, slotted spoon, spaghetti server, wooden spoon, and holder
Sturdy stainless steel and wooden construction
Great for hand-eye coordination and imaginative play

Sangu 5-Piece 100% Hand Painted White Black Angry Ribbons Oil Paintings Gift Canvas Wall Art


Home (Eve's Temptation)




Size: 12x16Inchx3, 8x22Inchx2 (30x40CMx3, 20x55CMx2)
Subject: Black and White Lines
Materials/Milieu: Thick Canvas, high quality oil or Acrylic colors. The depth is 2/3Inch (2CM).
100% hand painted. Actual painting may be slightly different from the product image.
Gallery wrapped and stretched with wooden frame on the back. Ready to hang. Edges are painted. A perfect wall decoration for living room and bed room.
Related posts: