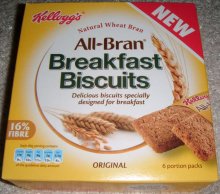 Breakfast biscuits seem to be a bit of a new idea that is gaining in popularity. It follows on from the more usual cereal bar concept, but it is just as convenient to eat. As I regularly breakfast at my desk I thought I'd pick up a pack of these to try with my morning coffee and to start me on my day.
The biscuits in the box are individually wrapped so it keeps the others fresh, which is useful particularly if you are only aiming at eating one pe day. Each biscuit it bigger than expected, with a line down the middle which meant that it broke easily and split neatly into two. I have to say the large biscuit itself isn't that smart looking, but the design does the job.
Once I bit in I found that the biscuit was more solid than expected and it delivered a hard crunch. The flavour had plenty of oats, bran and other wholesome tastes. It reminded me of a tough digestive biscuit with a different more complex texture. The biscuit was surprisingly sweet too, when I saw 'All-Bran' on the pack I just assumed it would have a lot less sugar than it did and my sweet tooth was pleasantly surprised.
Each biscuit is a decent size and has plenty of fibre which meant it put me on until lunch time and as it contained all the usual Kellogg's vitamins it was certainly a good start to the day. A nice product, but I do wonder if it will be too sweet for All-Bran fans.
Source: www.foodstufffinds.co.uk
Related posts: