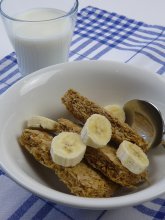 Many kiddie cereals aren't ideal in terms of fibre and whole grain content but they are inexpensive, high in starchy carbohydrate that fills up tummies, low in fat, fortified with four B vitamins and iron. Cereals are generally eaten with milk which contributes protein and bone-building calcium AND lowers the glycemic load of the meal.
But after that, cereals differ greatly – some are high in fibre, some are wholegrain, two things which are big on my list. Some are fortified with extra calcium, vitamin C, vitamin A or zinc (you can check the label), some are less processed, some have lots of sugar, others have next to none.
My 4 steps to choosing a healthy cereal
Puffed, rolled, flaked or popped, there are oodles of breakfast cereals. What I want is one with the most fibre and/or wholegrains but the lowest sugars and sodium (salt). One that will fill me up and take me to lunch! Sounds easy but isn't always.
Me? I'm a muesli Queen at breakfast. I love my muesli as I've said before. But at times I want variety and when the kids were little, we had up to FIVE packs of bought cereal in the kitchen. So I've been down the cereal aisle more than once. Here's what I look for.
1. Look for fibre
Cereals are one of the easiest ways to boost your fibre intake. So make it count towards your day's fibre intake. For instance, a bowl of bran cereal (like the ever-popular All-Bran) gives you 9 grams of fibre which is around one-third of your recommended daily intake. Read the back of the box and look for 10 per cent or more (run your eye down the Per 100g column). 10 per cent is equivalent to 3 grams of fibre per 30g bowl.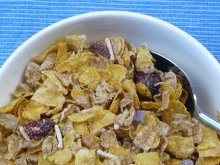 Bran cereals (All-Bran, Sultana Bran) have between 15 to 30 per cent while Corn Flakes and Rice Bubbles are down at a low 2 per cent.
Alternatively you can sprinkle a couple of spoons of All-Bran Fibre Toppers or Guardian or psyllium flakes over your usual cereal. To max your fibre, I've listed my top ten nicest-tasting cereals for fibre to show you the range at the high end:
Cereal
% fibre

g fibre

per serve

Serve size*

Uncle Toby's Bran Plus

40

18.0
45g

Kellogg's All-Bran Original

30
13.3

Goodness Superfoods Digestive 1st

25
12.7
50g

Vogel's Ultra Bran and Soy

26
11.5

Kellogg's Guardian

22
6.5
30g

Sanitarium Weet-Bix Hi-Bran

18
7.3
40g, 2

Kellogg's Sultana Bran

15
6.7

Uncle Toby's Shredded Wheat

13
6.2
47g, 2

Sanitarium Weet-bix

12
3.3
30g, 2

Uncle Toby's Vita Brits

4.2
33g, 2

Recommended daily intake

25-30
* serve sizes as specified by the manufacturer on pack
2. Look for Wholegrain
Look for a cereal that contains 50 per cent whole grains or more. It's usually splashed all over the front. The more, the better. Weet-Bix has 97 per cent whole grains while rolled oats hits the max at 100 per cent.
If not, you can check the list of ingredients for clues that "Whole Grains" are present. Words like whole wheat, whole barley, oat AND brown rice are clues. My tip: go for a cereal that contains the words 'whole ' or ' wholegrain ' in the first two ingredients.
Source: foodwatch.com.au
All-Bran Cereal, Complete Wheat, 18-Ounce Boxes (Pack of 2)


Grocery (All-Bran)




Contains 5g of fiber per serving
A great tasting and classic wheat bran cereal
All-Bran Cereal, 1.76-Ounce Single Serve Packs (Pack of 70)


Grocery (All-Bran)




Pack of 70, 1.76-ounce single serving boxes of All-Bran Cereal
Natural wheat bran cereal sweetened with sugar
10 grams of fiber per serving
A good source of 13 vitamins and minerals; low in fat
Prepackaged individual servings allow for easy breakfast on the go
All Bran Complete Wheat Bran Flakes, 0.875-Ounce Bowls (Pack of 96)


Grocery (All-Bran)




Pack of 96, 0.875-ounce single serve bowls of All-Bran Wheat Bran Flakes
Made with whole wheat and wheat bran
A good source of 11 essential vitamins and minerals; very low in fat; high in fiber
Excellent source of fiber
Prepackaged individual servings allow for easy breakfast on the go

All-Bran Bran Buds, 17.7 oz


Grocery (Kellogg's)




Made with wheat bran, psyllium seek husk, and oat fiber
A delicious, nutritious, and fiber-rich way to start the morning

All-Bran Bran Buds, 17.7-Ounce Boxes (Pack of 4)


Grocery (All-Bran)




Pack of 4 (total 71 oz)
Made with wheat bran, psyllium seek husk, and oat fiber
A delicious, nutritious, and fiber-rich way to start the morning
(Packaging my differ)
Related posts: