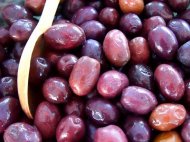 Both hotels have been clean, comfortable and luxurious and both have fed us so well in the mornings.
Nuts, figs, olives, breads and cheeses are star players on the breakfast menu here, we're all feeling simultaneously indulgent and healthy.
This morning we sampled the breakfast buffet at Armada Hotel and just…wow!
This is a larger, more expensive hotel and the size of the buffet reflects this. Armada's slogan is Preserve, Reserve, Serve and it hits these three targets admirably. Decor, service and design here reflect the old Istanbul and that splendid era can be seen in the buffet.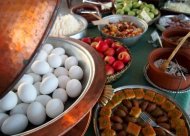 Anyway, enough about hotels, let's talk food!
This post may contain affiliate links. All views are 100% our own.
Everything about the Turkish breakfast buffets shouts abundance and most of the focus is on natural foods. By that I mean, good, clean, healthy, locally produced products, not mass-produced processed nonsense as we so often see in the west.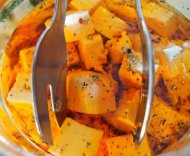 Yoghurt is a big player in this part of the world and we've seen it served at dinner with savoury dishes and on the breakfast buffet, where my boys like to add fresh, natural honey from the comb.
The cooked dishes we have seen include borek, with potato or spinach fillings, breads and pastries.
Turkey has a well-deserved reputation for delicious sweet treats. These have made it to the breakfast menu too, Turkish delight and baklava are wonderful with coffee at any time of the day.
Aside from breakfast, we've mostly been eating street food, breads, roast chestnuts or corn, juices and ayran. You can find these everywhere and they are easy to grab when you're busy exploring.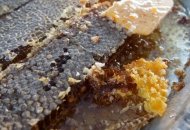 We're looking forward to trying a few more Turkish dishes while we're here. I had no idea food in Turkey was this good, it's been a great surprise. I need to add Turkey to my round-up post on breakfasts around the world. Breakfast is my favourite meal of the day, what's yours?
Source: worldtravelfamily.com
Twinings Earl Grey Tea, Tea Bags, 50-Count Boxes (50 Tea Bags)


Grocery (Twinings)




A light & romantic blend of fine black tea, scented with bergamot, a citrus fruit. Decaffeinated, naturally.
Light Flavour Strength
Related posts: