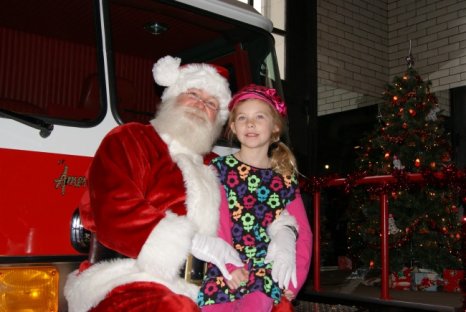 Watch Santa rappel down the side of the 525 Vine Building, a downtown office tower, to the Macy's rooftop at Fountain Square to kick off a spectacular holiday fireworks display during Macy's Downtown Dazzle . Saturdays, November 30, December 7, 14; 6:30 p.m. (choirs at 5:45 p.m.; no choir Nov. 30)
This event is SOLD OUT: Family Friendly Cincinnati partners with the Cincinnati Fire Museum, Downtown Cincinnati, Inc., and Panera to bring you breakfast with Santa Claus at the Cincinnati Fire Museum Saturday December 14th 9:00am-10:15am. Come visit Santa, enjoy a light breakfast from Whole Foods Market, listen to a story, tour the museum and do a couple crafts with the fine folks of Family Friendly Cincinnati. Tickets are $5 and online reservations are required. Details to be posted soon!
Watch the Scuba Santa magical dive show at the Newport Aquarium where Scuba Santa, his elf and even some friendly fish talk to you from beneath the sea. Plus, he'll even read a special underwater version of the celebrated 'Twas the Night before Christmas from his Magic Story Book.
Source: www.familyfriendlycincinnati.com
R & M Sleigh Cookie Cutter


Kitchen (R & M International)




Size: 4 X 2 5/8 X 1 inches.
Made of tin-plated steel in the USA
Great for cutting cookie dough, craft clay, soft fruits.
Wipe with damp cloth to clean
Do not put in dishwasher.
Related posts: