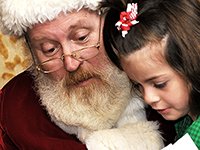 Christmas would not be complete without a special breakfast with Santa! A delight for children and parents, you'll enjoy the spirit of the holiday season in the festively decorated Callanwolde mansion. Featuring kid-friendly breakfast from Chick-fil-A, live entertainment and admission to tour the decorated home. Don't forget your camera to capture those picture-perfect moments when Santa arrives and children share their secret wish lists.
Thanks to our Breakfast with Santa Sponsor: Chick-fil-A DeKalb County
Tickets by advance reservation only.
Date: Saturday, December 7
Time: 9 am – 10:30 am
Tickets:
$20 Adults; $20 Child Seated at Table (Includes general admission)
Children taking a seat are charged full-price admission. Only 4 children per adult please. Doors open at 8:30 am. Open seating.
Source: callanwolde.org
Santa Claus Silverware Sets - Christmas Cutlery and Napkin Holders - Fits Gift Cards Too


Home (The Season's Heart)




SANTA SUIT SILVERWARE AND NAPKIN HOLDER SETS: 1 jacket and 1 pair of pants that each hold a fork, knife and spoon or small surprise gift
TRANSFORMS ANY CHRISTMAS breakfast, coffee, tea, dining or PARTY TABLE into a festive & charming Holiday setting
GIFT-GVING MADE EASY: Use Santa Silverware Sets & Cutlery Holder as unique and creative Gift Card Holders
CREATE A LASTING IMPRESSION for your friends, family and at your special Holiday events
BUY 3 SETS AND SAVE 25% : SURPRISE SOMEONE with Santa Claus adorable silverware gift pockets and have a fun and awesome time
Related posts: