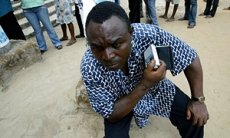 A man listens to a transistor radio in Lagos, Nigeria. Photograph: AP/Sunday Alamba
It's 6.30am in London and the morning brings more news of the militant group Boko Haram. Except I'm hearing the details of a suicide bomb attack in the Northern city of Kano read by a Nigerian radio presenter over a bed of strings on Lagos's Classic FM. I'm listening via the site Global Breakfast Radio, which follows the sun west, picking up feeds from local radio stations around the world where breakfast is being eaten, streaming them for 10 minutes and then moving on.
Over 24 hours, the site gives a sense of what people across the world share, while also highlighting local idiosyncrasies. It feels appropriate that my journey begins in Nigeria, given current international interest in Boko Haram, but from there I'm taken to Star Radio in the Rwandan capital, Kigali, which plays nothing but ads in the time we visit. The Guarantee Trust Bank has its very own three-minute song.
That highlights the worldwide problem of finding money to make radio programmes. Online, we are manipulated in ever more sophisticated ways. On local radio, there's no such pretence. On WNCW North Carolina, a honeyed voice tells the story of Malcolm X before segueing into the Wordsworth poem, The Tables Turned. The intellectual inquiry ends with the revelation that it was a sponsored segment. Still, I enjoy the way y'all talk.
The music is most interesting when it reflects the geography of the station. Disappointments include The Full Breakfast Show on Ireland's Radio Kerry ("Music, craic AND banter"), which is all chart hits. Ditto Heart FM in Cornwall. Frat-house rapper Macklemore has reached the Cape Verde islands and is getting plenty of airtime on Praia FM. In Anchorage, Alaska, I imagine grizzled men in freezing cars heading to the port for another hard day at sea – grizzled men who would have been listening to Kanye West.
My stereotypical seafaring dreams are, however, answered in Newfoundland, where at breakfast the playlist includes songs featuring squeezeboxes, fiddles and fights in dockside bars, one by a band called The Navigators. "Don't say nothing bad about whaling, " someone sings. A station in Guinea Bissau plays the freshest music you could ever hope to wake up to – sounds that feel like they come from the streets outside the radio station – while Basic FM from Newcastle and San Francisco Art radio walk an admirably avant-garde line; playing discordant clicks and shuffles to get their listeners going in the morning.
Source: www.theguardian.com
RoRo Hand-crafted 18 inch 3-Piece Tray and Bowl Set made from Sustainable Wood


Kitchen (RoRo)




Includes 3 trays with food-safe finish: 18 x8 x3 , 16 x7 x3 , 12 x4.5 x2
Ideal as a continental breakfast serve set: bread tray, fruit tray, and butter and jam container
Multiple uses such as an appetizer set, candy, towel and soap holder for bathroom
Hand-crafted from a workshop in Thailand that employs less than 20 people
Sustainable and eco friendly - item made from orchard wood
Hamilton Beach 22811 Keep Warm 2-Slice Toaster


Kitchen (Hamilton Beach)




Your toast stays warm without over toasting
Keep warm setting with ready tone and 3 minute auto shutoff
Cool-wall, stainless steel sides
Toast Boost lifts food higher for easy removal
Easy-push buttons illuminate for easy view
Related posts: