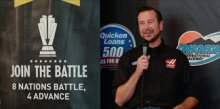 NASCAR star Kurt Busch, driver of the No. 41 Haas Automotive Chevrolet and 2004 NASCAR Sprint Cup Series Champion, kicked off the Chase for the NASCAR Sprint Cup during Phoenix International Raceway's second annual Breakfast With Champions as part of NASCAR's "Chase Across North America" Wednesday at Phoenix's Heard Museum.
In front of an audience of more than 75 invited guests and local media, Busch and veteran motorsports broadcaster Ralph Sheheen discussed the NASCAR Chase format and the increased pressure on drivers and teams each week during the 10-race Chase, and in particular at the Quicken Loans Race For Heroes 500 at PIR. A native of Las Vegas, Busch enjoyed being able to come back to promote the Chase in Phoenix.
"This is wonderful to come out to Phoenix, come out to the desert Southwest, " Busch said. "I grew up in Las Vegas and came out to Phoenix as a kid when they were actually taping the "Days of Thunder" movie. Before Las Vegas Motor Speedway was built, this was our racing capital of the Southwest at Phoenix International Raceway. It's always good to come back and feel that desert air."
The Quicken Loans Race for Heroes 500, on Sunday, Nov. 15, is the final Eliminator race in the Chase, after which the field of championship contenders will be reduced to the final four who will head to the season finale at Homestead-Miami Speedway for the title showdown.
"There are those 'bottom-of-the-ninth' moments now, similar to this race last year here in Phoenix, " Busch said. "My teammate Kevin Harvick, he won this race and if he didn't win here, he wouldn't have even gone to Homestead with a shot of winning the Championship. That's how pivotal any kind of cut-off race is. It makes it great for you guys here in Phoenix. I heard the race is already almost sold out, and that's because it's that 'bottom-of-the-ninth', cutthroat atmosphere."
Walking through each round of the playoffs, Busch also shared his picks for the Chase Grid on what drivers he believes will advance, and not surprisingly, why his No. 41 team will take the Championship title.
Source: www.phoenixraceway.com
2002 TERRY LABONTE #5 KELLOGG'S CHASE THE RACE 1:64 CAR


Toy (Ertl)




TERRY LABONTE
KELLOGG S
Premier Series
Chase the race
1:64 scale
Related posts: