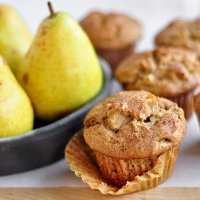 I wish you could smell these muffins cooling on my counter right now. Better yet, I wish you could actually be here in my kitchen right now. Because then we could sit down with mugs of coffee and one muffin each, and break off nutmeg-scented nibbles as we trade stories about our day.
These muffins might just be one of my crowning achievements. They are solidly in the middle of the muffin spectrum, neither so sweet that they could pass for cupcakes nor so healthy that they stop tasting like a treat. They have a bit of white flour and a bit of wheat, a bit of table sugar and a bit of brown. Cinnamon, nutmeg, and ginger bring some spicy warmth, while a splash of vanilla lingers hauntingly in the background.
And the pears! Quite possibly my favorite fall fruit. Use ones that are just starting to go soft and juicy. These will hold their shape during cooking and turn into jammy pockets that dissolve in your mouth.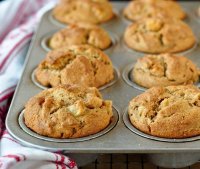 If the pears aren't good when you go shopping, you can use apples or any other firm-fleshed fruit. And if you want to throw in a handful of chopped nuts, I won't say no.
Spiced Pear Muffins
Makes 12 muffins
1/2 cup (4 ounces) packed brown sugar
1/4 cup (2 ounces) granulated sugar
1 stick (4 ounces) unsalted butter, softened
2 large eggs
1 teaspoon vanilla extract
1 cup (5 ounces) all-purpose flour
1 cup (5 ounces) whole-wheat flour
2 teaspoons baking powder
2 teaspoons ground cinnamon
1/2 teaspoon ground ginger
1/4 teaspoon ground nutmeg
1/2 teaspoon salt
1/2 cup (4 ounces) milk
2 to 2 1/2 cups pears, unpeeled and diced small (from 2 medium-sized pears, about 11 ounces whole)
1/4 cup chopped candied ginger, 1/2 cup chopped nuts, or 1/2 cup mini chocolate chips (optional)
Cinnamon and sugar, for sprinkling on top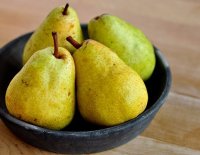 Heat your oven to 425°F. Spray the wells of a standard muffin tin with nonstick spray or place muffin liners in all the wells.
In a mixer on high speed, cream together the sugars and the softened butter until they resemble fluffy frosting, about 1 minute. Mix in the eggs, one at a time until fully incorporated, about 1 minute each. Mix in the vanilla extract.
In a separate bowl, whisk together the flour, baking powder, spices, and salt. With the mixer on low speed, mix 1/3 of the flour mixture into the butter-sugar mixture followed by 1/3 of the milk. Continue alternating between the flour and the milk, mixing just until the flour is incorporated. It's OK if there is still some flour on the sides of the bowl. Do not overmix.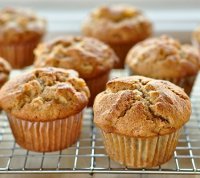 Scrape the sides of the bowl with a spatula and stir gently to incorporate the last of the flour. Add the diced pears and any optional ingredients all at once and fold them into the batter.
Divide the batter between the muffin cups. The batter will fill the cups and mound slightly on top. Sprinkle the tops with cinnamon and sugar.
Place the muffin tin in the oven and immediately turn down the heat to 400°F. Bake for 20 to 25 minutes, rotating the pan once in the middle of baking. The muffins are done when the tops looked cracked and toasted, and when a toothpick inserted in the middle of one of the muffins comes out clean.
Source: www.thekitchn.com
Pear & Walnut Extra Jam - Maida Farm, Campania, Italy - 7.7 oz


Grocery ()




Made with locally grown fruit
Made by Farmer Francesco Vastola in Cilento
Traditional recipes and lessons learned from his grandmother Antonia
Great for Breakfast, it s a must in a crostata or with fresh cheese
220 gr - 7.7 oz

Earth's Best Organic Stage 1, First Sweet Potato, 2.5 Ounce (Pack of 12)


Grocery (Earth's Best)




Made from sweet potatoes and Vitamin C
Perfect for babies 4 months and older
Excellent way to support your baby s healthy diet
USDA certified organic
No artificial colors, no artificial flavors, and no preservatives

Earth's Best Organic Stage 2, Apples & Apricots, 4 Ounce (Pack of 12)


Grocery (Earth's Best)




Made from apples, apricots, citric acid, and Vitamin C
Perfect for babies 6 months and older
Excellent source of Vitamin C
USDA certified organic
No artificial colors, no artificial flavors, and no preservatives
Related posts: