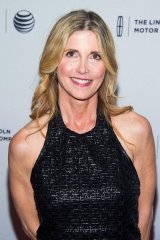 By Karen Leigh Hopkins as told to Michelle Fiordaliso
For an aspiring actress from Sandusky, Ohio (population 25, 000), auditioning for and getting cast in the role of a fresh-out-of-college gym teacher in John Hughes's The Breakfast Club was the big break I'd been hoping for. My character — who was at school for a Saturday practice — originally began as a swim instructor but evolved into a gym teacher because I actually taught aerobics professionally at the time. John told me that my part was meant to bridge the gap between the students and the establishment. For my big scene I'd deliver a speech in the library to the five kids saying, "This is just a small part of your total life history." What that meant was that even though everything feels intense in high school, that time ends and then real life begins. And the life I had dreamt of felt like it was just beginning.
We had been filming in Chicago. One morning I was at the hotel getting ready to leave for set when the phone rang. It was Jackie Burch, our casting director. I was being sent home. That day. What?! The information didn't compute. I asked her why but she didn't know. What happened? It felt sort of like, well, exactly like high school. One day you're in with the cool kids and the next day you're an outcast — as in out of the cast.
I still don't love flying, but let's just say that plane ride home was the worst one I've ever taken. I thought about the scene we'd filmed in the library a few days prior. John kept whispering random jokes into my ear so that my lines would crack Anthony Michael Hall up — I remember one was about Lionel Richie. Each take took on a slightly different tone. In hindsight, if I'd been told this scene was going to be cut, I would've been shocked because it seemed to be going so well. On the plane, despite my soft seat in first class, I couldn't find any comfort. In the absence of any real explanation I filled the void with lots of possible ones — each one more negative than the next.
Call it magical thinking or insanity but I still held out hope I'd be in the final cut. Jackie [Burch] had seen footage after I was sent home and told my agent it was good. So when the film opened I was still pathetically hoping there'd be a glimpse of me. I know. Don't say it. I went to an afternoon showing alone and guess what? I wasn't in the movie. My mother called and said, "Honey, just come home. I'll bake you a white cake."
See also:
Source: www.yahoo.com
iPhone6 Plus Sports Armband, Nancy's shop Easy Fitting Sports Universal Armband With Build In Screen Protect Case Cover Running band Stylish Reflective Walking Exercise Mount Sports Sports Rain-proof Universal Armband Case+ Key Holder Slot for Iphone 6 Plus (5.5 Inch) (Sky blue)
Wireless (Deego)
Designed specifically for iPhone 6 Plus, Lightweight armband keeps your phone secure and protected.
Water Resistant and sweat-proof funtion to better protect your mobile phone, make you feel more comfortable during exercise,Due to varying color display...
Built in Reflective strip for safe running in low light conditions. Built-in Key holder. Cutouts for easy access to headphones port and controls. A sweat resistant...
Material: Lightweight soft neoprene that is molded to twist and bend but will not stretch out of shape. Washable with gentle soap and water, then air dry. Can keep...
Functionality: Provide excellent protection during sport, such as running, biking, jogging, walking, working out etc. Touch screen works through the clear cover
iPhone 6s 4.7 inch Wallet Case ,Nancy's shop Premium Series Shock Absorption PU Leather Bumper Flip Cover With Stand Feature Magnetic Card Slot Holder + FREE Screen Protector For iphone 6 (1-boy)


Wireless (Nancy's shop phone cases are made with superior quality materials and exacting production standards so that you can expect a perfect and protective fit to shield your cell mobile phone devices from harm.There are leather wallet phone cases ,tpu ,ultra slim cover, flip case ,defender rubber waterproof case with built in screen protector ,2 in 1 2 heavy duty armor hybrid combo dual layer, 3d bling PC ,tempered glass,wood case,0.3mm 1 dollar 2 piece 3d 5sos 6 pack 7.99 80s 99 cents apple black clear disney elephant for girls gold heavy duty incipio jordan kate spade lifeproof michael kors nike otterbox pink quote red speck thin ultra thin verus wallet xo yellow zebra armor elago holster ionic jetech metal new trent obliq rose gold spigen tough armor uag anchor charger for men otter box rubber tory burch ulak victorias secret zelda galaxy iphone leather rose wood 2 in 1 3 cards 5.5 6 card cm4 for women harry potter jewels navor quotes teal with strap zipper 0.3 1 dollar free shipping 3d cartoon 49ers 5 seconds of summer 6 god 7 dollars 8 bit 90s bumper design glitter hello kitty in rubber jelly tpu kickstand maxboost nanotechnic otterbox defender protective quotes for girls tech 21 victoria secret waterproof xmen yankees armband blue caseology black diztronic etime girly i-blason jetech fortress karendeals mint neo hybrid carbon perfect armor armband hang bad wallet,belt clip holster bumper body .with metal rhinestone flower print new owl elephant animal cute leopard glitter and other pretty patterns for your more choice.We always follow these power seller such as kate spade,ulak,otter box,spigen and so on as example. There are many fashion colors for your choice such as teal black blue white pink plaid red clear purple grey orange rose red green aqua silver camouflage navy gunmetal. cowboys glow in the dark shock absorption which is suitable for girl gillie girls girly kids men man women woman .you can find all kinds of phone cases in Nancy shop with 100% risk-free.)




Designed Specifically with Apple iPhone 6 (2014) and the new iPhone 6S (2015)
Made of high quality colorful PU leather and TPU and magnetic clip design Protector For your iphone 6 / iphone 6S
Included Card Slots and Money Pocket: Carry around your ID, credit and debit cards, and cash without having to take your wallet with you
Stand flip design : freely and relaxed to enjoy video, movies, E-book, pictures etc.
Quick and easy access to ports and buttons. Innovative new button design ensures an extremely easy to press button experience for your iPhone 6 / 6S.
Related posts: