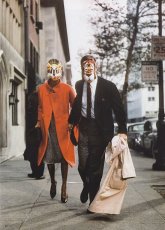 At 5 a.m. in one morning in 1960, a yellow taxi gently pulled up in a rarely quiet Fifth Avenue in New York. Disembarked from the taxi was a lady with oversized sunglasses and layers of pearl necklace in a Givenchy little black dress, holding a bag of breakfast. Being the only pedestrian, she strolled to the shop windows of Tiffany & Co, where she took out a bun and a cup of coffee from the paper bag and stared at the jewellery. The backdrop plays Henry Mancini's Moon River, while the elegant remains as an enigma.
As the story gradually unravels, Holly Golightly (Audrey Hepburn) is not a very loveable girl you will expect in any another movie. She is a party girl who lives off by engaging with rich men. She has a list of top 10 richest men in the country on top of her head. She was married at a young age with her real name Lulu Mae Barnes, but abandoned her husband for a new life in New York under the false name Holly. She meets her new neighbour Paul Varjak (George Peppard), a writer who has not published any works in the last 5 years and benefits from his relationship with a wealthy old woman.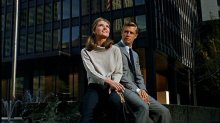 To many, life in New York City is thrilling due to its glamour and the possibility of chasing after their dreams. To Paul or the men fascinated by Holly, the thrill of the city is seen through Holly herself. Her wildness and impulsiveness naturally attract them to experience the city through her eyes. However, it is always dangerous to give your heart to a wild thing. "The more you do, the stronger they get, until they're strong enough to run into the woods or fly into a tree. And then to a higher tree and then to the sky."
Although a wild thing is sometimes the one in a cage. Holly is undeniably a shallow gold digger who would marry any man for his money. However, after all, she may just be another poor soul who imposes on herself all those constraints as she chases after something "better". It is also a struggle between falling in love and safekeeping freedom. Falling in love means obligations. You are no longer on your own, but part of the two-men team against the world. It also means being vulnerable. And yet the more you escape from such possibility, the more you confine your own life by invisible nuisances.
A good movie is like wine. The more you watch it, the more it brews your thoughts – gently, never in excess.
Source: subitolove.wordpress.com
Related posts: