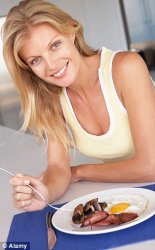 When it comes to breakfast, we Brits tend to stick to what we know, with a traditional fry-up still our morning meal of choice.
Despite the fashion for smoothies and continental breakfasts, 31 per cent of those questioned in a recent poll said they were happiest munching on a full English accompanied by an English breakfast tea.
Closely following that (with 12 per cent of the vote) was that hangover favourite, the bacon sandwich - on white bread and smothered in ketchup, naturally.
It was revealed that the bacon sarnie was most popular on a Saturday morning following a boozy Friday night, with 17 per cent saying that it was the perfect way to nurse a hangover after a night on the town.
The poll of 2, 000 British adults by The Co-operative Food revealed the third most popular breakfast to be tea and toast.
The survey also found a sophisticated one in twenty of the respondents voted croissants and coffee as their favourite way to start the day, making it sixth in the overall list.
It appears that, although a fry-up might be our favourite, it is a rarity, as 36 per cent agreed that breakfast was usually a rushed affair, with only a third of adults saying they ate breakfast at the kitchen table.
Some 18 per cent choose to consume their first meal of the day standing up and 32 per cent watch the television while they eat.
However, some Brits do take time over their morning meal, with one in five saying they always make a point of eating breakfast together as a family each morning.
Bacon sarnies are the nation's second favourite with 17 per cent agreeing it is the perfect hangover cure
Source: www.dailymail.co.uk
Twinings - English Breakfast Decaffeinate | 50 Bag


Health and Beauty (Twinings)




Great Savings On Quality Branded Items
Twinings
Twinings - English Breakfast Decaffeinate | 50 Bag

Mahamosa Black Earl Grey Tea - Earl Grey Extra Fancy OP 2 oz


Grocery (Mahamosa)




Earl Grey Extra Fancy OP- Delicious loose leaf black earl grey tea!
Whole leaf black tea, bergamot flavor.
Good early to mid- morning tea.
High caffeine. Perfect tea for breakfast!
Being in the World®: Mahamosa donates 50% of after-tax net profits to charity!
Related posts: