For an aspiring actress from Sandusky, Ohio (population 25, 000), auditioning for and getting cast in the role of a fresh-out-of-college gym teacher in John Hughes' The Breakfast Club was the big break I'd been hoping for. My character — who was at school for a Saturday practice — originally began as a swim instructor but evolved into a gym teacher because I actually taught aerobics professionally at the time. John told me that my part was meant to bridge the gap between the students and the establishment. For my big scene I'd deliver a speech in the library to the five kids saying, "This is just a small part of your total life history." What that meant was that even though everything feels intense in high school, that time ends and then real life begins. And the life I had dreamt of felt like it was just beginning.
We had been filming in Chicago. One morning I was at the hotel getting ready to leave for set when the phone rang. It was Jackie Burch, our casting director. I was being sent home. That day. What?! The information didn't compute. I asked her why but she didn't know. What happened? It felt sort of like, well, exactly like high school. One day you're in with the cool kids and the next day you're an outcast — as in out of the cast.
I still don't love flying, but let's just say that plane ride home was the worst one I've ever taken. I thought about the scene we'd filmed in the library a few days prior. John kept whispering random jokes into my ear so that my lines would crack Anthony Michael Hall up — I remember one was about Lionel Richie. Each take took on a slightly different tone. In hindsight, if I'd been told this scene was going to be cut, I would've been shocked because it seemed to be going so well. On the plane, despite my soft seat in first class, I couldn't find any comfort. In the absence of any real explanation I filled the void with lots of possible ones — each one more negative than the next.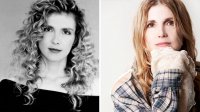 Karen Leigh Hopkins then and now. (Photos by Firooz Zahedi, left, and Diana Ragland)
Call it magical thinking or insanity but I still held out hope I'd be in the final cut. Jackie [Burch] had seen footage after I was sent home and told my agent it was good. So when the film opened I was still pathetically hoping there'd be a glimpse of me. I know. Don't say it. I went to an afternoon showing alone and guess what? I wasn't in the movie. My mother called and said, "Honey, just come home. I'll bake you a white cake."
Source: www.hollywoodreporter.com
The Breakfast Club Characters Girls T-Shirt (Small)


Apparel (Hot Topic)




60% Cotton; 40% Polyester
Wash Cold; Dry Low
Imported
Listed In Junior Sizes
Related posts: