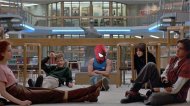 This summer, Marvel Studios will not be attending San Diego Comic-Con (next week!), but they do have Ant-Man coming out soon and that means that Marvel Studios President Kevin Feige will be in charge of keeping the Marvel Cinematic Universe buzz alive through a four-day onslaught of arguably bigger news.
The parade of teasing facts about upcoming movies in the MCU has already begun! Of course, with the recent announcement that British actor Tom Holland was cast as Peter Parker for both Marvel Studios (in next year's Captain America: Civil War) and Sony (in 2017's Spider-Man solo movie), many of the questions hurled at Feige by the online press during Ant-Man's recent press event had to do with Spider-Man.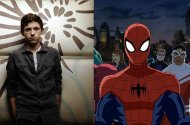 As to where everything stood with Spider-Man's connection to the upcoming Infinity War story arc or which Avengers characters might make a trip to Queens in 2017, Feige remained on message, keeping the focus on the process of co-producing a Marvel Movie set to shoot next year:
"Right now, it's all about producing the new stand-alone Spider-Man movie. That's what Sony is focused on. That's what we're focused on, and whatever happened before that or after that, sort of remains to be seen, but it's all about producing the best Spider-Man movie we can, certainly within the Sony Universe, next July."
That doesn't mean Feige is going to leave Spider-Man fans totally in the dark about the direction of the new movie. Speaking to the Birth Movies Death blog, he mentioned that picking a younger actor to play Spider-Man was a move towards a Spider-Man movie with a different tone, and one that is, "a John Hughes movie."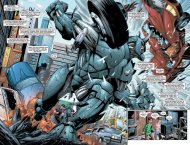 John Hughes, of course, is the writer and sometimes director behind 1980s teen hits The Breakfast Club, Sixteen Candles, and Ferris Bueller's Day Off. The middle one is a bit too much of a romance to use as a Spider-Man reference, but there's something attractive about a Spider-Man movie that has something in common with Ferris Bueller's Day Off.
A good example of this sort of high school drama mixing well with Peter Parker's life as Spider-Man is the excellent one-shot story from the first volume of Ultimate Spider-Man, "Sidetracked, " issue 28. In the story written by Brian Michael Bendis, Peter Parker is in school when he hears about The Rhino rampaging downtown. He tries to get out of class to fight the villain as Spider-Man but keeps getting distracted by the very real human drama of high school. By the time he gets to where Rhino is, the crisis is over because Iron Man had shown up and taken care of it.
In addition to mentioning the Hughes aspirations of Sony and Marvel's Spider-Man, Feige said that the villain of the piece was still under debate, but the decades of Spider-Man lore suggests there is no reason to go back to previously used characters like The Green Goblin or Venom. He told Birth Movies Death: "Right now we're interested in seeing villains we haven't seen before."
Source: www.geek.com
BREAKFAST CLUB - Art Print on Canvas (32x24 inches, unframed)


Home (Rock Bull)




Canvas size 32 x 24 inches, 80 x 60 cm.
Fine Quality Art Print on Canvas - with texture, rich colour and superior materials.
Unframed/ Unstretched. Rolled and shipped in a protective tube.
All the image samples were collected from Google Image Search, if the sample pictures hurt any author s benefit, author please contact us to remove.
Dear customers, the posters have varies sizes(40*60cm,50*70cm,60*80cm), Please search the name of product you like in our store and you can get all the sizes of...
Related posts: