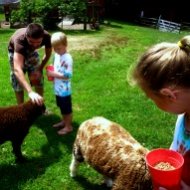 This is a beautiful, classic – "Red Barn" farm. The farm is used as a petting zoo, and farm store, and provides educational camps for kids.
When you enter the zoo, step up to the barn to pay your entry fee, and buy a cup of animal food. Then, go say hello to the donkeys, and horses. Feed the goats, sheep, llama, bunnies, and more goats. You can take a peek at the baby chicks, the beautiful peacocks, the rooster, and perhaps the calf. You can even purchase a pony ride, if you'd like! There is also an old trolly in the middle of the yard for the kids to climb into, and let their imaginations soar. The farm dog, frequently wanders through with some staff following behind him. Occasionally, as you visit the animals at the zoo, a stray goat might follow close behind you! Goats are often standing on top of their shelter, looking for the next cup of food They look so cute.
The owner has a sense of humor. Flamig Farm's trademark "EGGS", is spelled backwards. Instead of a "stop" sign, you'll see a "whoa" sign!
In the fall, the kids love the "the haunted hayride". Yourself and the kids can load up onto a hay filled wagon, ready to embark on an adventure through the "haunted forest". In the forest, some helpers, dressed in costumes will come by and act out some scenes from "The Wizard Of Oz", and throw candy into the wagon:) Every once in a while a spider will drop down from the trees, and disappear as quickly as he came. Just scary enough for the big kids, but not too scary for the babies.
Mom's Rating:
I enjoy taking the kids. It is manageable enough for me to go by myself, and is not too long. You can see everything in an hour, or expand it to two hours. The kids love to feed the animals, and always leave happy.
We also are return customers of the Kid Friendly Haunted Hayride. The kids love collecting all of the candy:)
Favorite Season To Visit:
Spring and Fall. Summer gets hot in the wide, open spaces.
Activities/Things To Do:
Seasonal Hayride
Feeding the animals
Shopping-souvenir shirts, eggs, beverages, etc.
Purchase mulch/manure
educational programs
Picnic
Visit Santa
What To Pack:
Sunscreen
Usual Kid Stuff
Germ-X – they do have a cleaning station
Water
Snacks
Camera/Video Camera
FYI:
$10.00 minimum for credit cards
They do have summer camps, and the picnic shelters will get crowded. Have a plan B. (There are 2 picnic tables near the parking lot).
They do have a birthday party room.
Haunted Hay ride is very bumpy. Caution to those pregnant and with back problems.
You can have breakfast with Santa. I have not tried this experience. So, I can not go into detail. Look at the link below to check it out.
Halloween Hayride : Dates, hours, and cost can be found by visiting the link below.
Source: kidfriendlythingstodo.com
Cherryvale Farms Organic Muffin Mix, Blueberry, 16 Ounce


Grocery (Cherryvale Farms)




Organic natural healthy eco-friendly recycled packaging BPA and GMO free
Organic
All natural
Eco-friendly recycled packaging
GMO free
Wegmans Organic Cinnamon Applesauce, (6) 4oz Servings, 24oz Total Per Pack, (Pack of 4)


Grocery ()




USDA organic, Certified organic by the Ohio Ecological Food and Farm Association.
Vegan
Lactose Free, Gluten Free
Ingredients: Organic Apples, Organic Sugar, Organic Cinnamon, Water, Ascorbic Acid (to Maintain Color).
Fast Shipping!
Related posts: