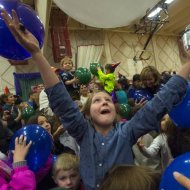 Caption + Bridget McGee, 8, reaches for the balloons during the balloon drop at the Noon Year's Eve celebration Wednesday, Dec. 31. 2014, at the Olympic Training Center in Colorado Springs. The celebration was sponsored by the Pikes Peak Children's Museum. (The Gazette, Christian Murdock)
We won't pretend to predict breaking news for 2015, but we can say there will be new leaders and new events. - Already there's a new sheriff in town, and in a few months there will be a new mayor for Colorado Springs. A new soccer team will make its pro league debut in March, and in April the Milwaukee Brewers Triple-A players will debut in Sky Sox uniforms at home against Nashville. - Students throughout the state will take new, controversial standardized tests. This spring, new bus services will run between Colorado Springs and Fort Collins and between Denver and Glenwood Springs. - See a calendar of some upcoming events, A8.
JANUARY
Jan. 1: Penrose-St. Francis Health Services plans to stop hiring tobacco users under a plan implemented by the hospital system's parent, Centura Health.
Jan. 1: Bill Elder starts as interim sheriff until he officially takes office Jan. 13.
Jan. 7: Colorado legislature convenes.
Jan. 10: The Pentagon Inspector General is expected to wrap up a review of how the Air Force Academy handled player misconduct in its athletic department and whether a cadet informant in misconduct cases faced retaliation.
Jan. 12-Feb. 13: Tentative dates of Colorado Department of Education achievement tests for English language learners, K-12.
Jan. 13: State and county elected officials are sworn into office.
Jan. 15: Gov. John Hickenlooper's State of the State address.
Jan. 19: Colorado College All People's Breakfast, El Pomar Sports Center.
Jan. 24: Glass Slipper Ball, Zonta Club, DoubleTree by Hilton.
Jan. 30: Empty Stocking Fund results announcement and check presentations.
Also this month
- Colorado is betting on the Broncos to make a return trip to the Super Bowl. If the Broncos can't win a championship, who will? The rest of the state's professional teams are mired in deep slumps. As the Nuggets drop further into the NBA abyss and the Avalanche struggle to regain form in the NHL, we are on pace to be without an NBA or NHL team in the playoffs for the time since 1992-93 - before the Avs existed. And the MLB club is years away from being a playoff contender. The Rockies haven't finished higher than fourth in the National League West since 2010. Can the Bowlen family take over the baseball, basketball and hockey teams, too?
- Adeptus Health, the parent company of First Choice Emergency Room, plans in January to close on its purchase of 11 acres southeast of Interstate 25 and west of North Nevada Avenue - a move paving the way for construction of its first hospital in the region.
- Air Force hockey coach Frank Serratore (298-287-64) is two wins away from his 300th career victory at the service academy as the year begins.
- FedEx Ground is expected to begin construction on a $20 million, 225, 200-square-foot distribution center near the Colorado Springs Airport.
- Spectranetics Corp. is expected to complete its $30 million acquisition of Covidien plc's Stellarex drug-coated angioplasty balloon product line after Medtronic Inc. buys Covidien.
- This year will see new leadership at Air Force, as a new athletic director and CEO of the Air Force Academy Athletic Corp. figure to be named.
Source: gazette.com
Related posts: