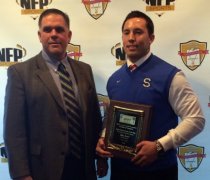 NEW HAVEN > Standing at the podium beside towering, all-state players — New Canaan's Zach Allen and Southington's Jasen Rose — Shelton quarterback Mark Piccirillo gave himself zero chance of winning the Walter Camp Player of the Year Award.
Was he good enough? Yes. Would he win? Surely not over Allen, the Gatorade State Player of the Year and the New Haven Register's All-State MVP who won a state title. Probably not over Rose, who had insane passing numbers, won a state championship and helped his team earn the Register's No. 1 ranking.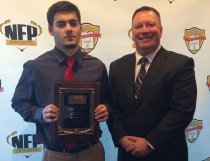 Piccirillo didn't even bother to write a speech. "I didn't think I was going to win, " the senior said. "I kind of had something prepared in my head, but nothing special."
Imagine the stunned look on Piccirillo's face when the cracked envelope revealed his name on the placard.
Piccirillo, who shattered Shelton passing records held by former great Dan Orlovsky and brought the Gaels within millimeters of winning their first state championship since 2003, brought home the state player of the year award at the Walter Camp Weekend's Breakfast of Champions at Anthony's Ocean View Saturday morning.
"I was kind of shocked, " Piccirillo said. "It's a good feeling. It's pretty nice, with this big ordeal, to be named by Walter Camp as the state's best player. I was kind of hoping to get one of these. This is one of the better ones."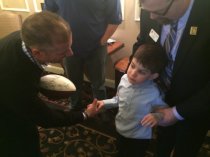 With Walter Camp's Man of the Year award winner and former all-pro back Jerome Bettis and former Walter Camp All-American David Fulcher in attendance, Piccirillo and 25 other Connecticut high school football players were honored for their selections to the Walter Camp's All-Connecticut team. The eight 2014 CIAC state champions were also recognized.
Southington's Mike Drury was named Walter Camp's Coach of Year. Drury, the son of former Pomperaug championship coach and Chuck Drury, won his second consecutive state title at Southington in just his fourth year. The Blue Knights were voted the No. 1 team in the New Haven Register / GameTimeCT Top 10 Poll.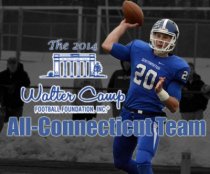 "I've coached with some tremendous coaches who have five state championships among them, " said Drury, who praised the Southington coaching staff, players and community for the program's success. "I give a lot of credit for where I am today for showing me the right way."
"I told Mark (Piccirillo), I have no chance at winning, but I think you do, so you'd better have a speech ready, " Roy said. "He deserves it, that's for sure."
"We worked hard all year and with hard work comes things like this, " Piccirillo said, while thanking his coaches, teammates and opponents. "Despite the ending that we had, it doesn't really matter now. Everyone had a great year, a great time. These guys (Allen and Rose) are two of the best players in the state. I thought one of them would get it over me."
Piccirillo, who will play at Wesleyan next year, was first-team all-state for the Connecticut High School Coaches Association, the New Haven Register and Walter Camp teams. He was the New Haven Register all-area MVP.
Source: www.gametimect.com
iPhone6 Plus Sports Armband, Nancy's shop Easy Fitting Sports Universal Armband With Build In Screen Protect Case Cover Running band Stylish Reflective Walking Exercise Mount Sports Sports Rain-proof Universal Armband Case+ Key Holder Slot for Iphone 6 Plus (5.5 Inch) (Dark blue)
Wireless (Deego)
Designed specifically for iPhone 6 Plus, Lightweight armband keeps your phone secure and protected.
Water Resistant and sweat-proof funtion to better protect your mobile phone, make you feel more comfortable during exercise,Due to varying color display...
Built in Reflective strip for safe running in low light conditions. Built-in Key holder. Cutouts for easy access to headphones port and controls. A sweat resistant...
Material: Lightweight soft neoprene that is molded to twist and bend but will not stretch out of shape. Washable with gentle soap and water, then air dry. Can keep...
Functionality: Provide excellent protection during sport, such as running, biking, jogging, walking, working out etc. Touch screen works through the clear cover
Related posts: