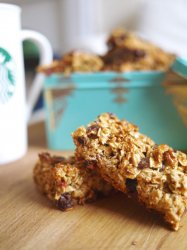 You can whip up a batch on Sunday night & have breakfast on the run sorted for the rest of the week.
Remember, the first thing Sumo wrestlers do when they're trying to put on weight is skip breakfast. Not something you want to do.
You'll never get the best out of anyone if they're hungry, so if I have a morning meeting I'll take a whole box in for the office to share.
They disappear like nobody's business!
They're particularly delicious dunked in tea or coffee…
Pop them into an airtight tin or tupperwear and they'll keep for about a week.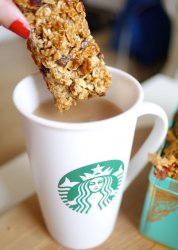 To make around 16 bars you'll need:
350g (12.5oz) of your favourite (sugar free) oat based muesli
75g (3oz) dried cranberries
75g (3oz) dried goji berries
390g (14oz) condensed milk
Five easy steps:
1. Heat your oven to 130C/260F. Line a baking tray (about 23 x 33 x 4cm) with baking parchment and set to one side.
2. On the hob use a large saucepan to heat your condensed milk. It should only take a couple mins but keep stirring it to make sure it doesn't burn.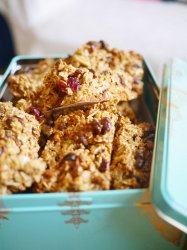 You should be able to feel it getting thinner as you stir.
3. After about 2-3 mins, pour in your muesli & berries. Stir thoroughly so every bit of muesli is nicely covered in the sticky glaze.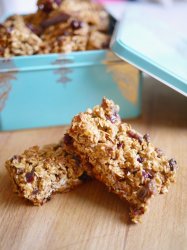 4. Pour it into your papered pan & press it out flat. When your oven's preheated pop it onto the middle shelf for 30-45 mins, depending on whether you like chewy or crispy bars. Obviously the longer you leave them, the darker & crunchier they'll become.
5. When they're done to your liking take them out & leave to cool for 15 mins. Then use the paper to remove them from the pan, chop into manageable bars (you should be able to get about 16 good sized hunks out of this), leave to cool completely & they're done!
Source: www.thelondoner.me
Bear Naked Granola Pouches, Fruit and Nutty, 12 Ounce (Pack of 6)


Grocery (Bear Naked)




Pack of six, 12-ounce pouches
Delicious, soft-baked blend of whole grain oats, hearty almonds, luscious raisins, cranberries, pecans and walnuts
No cholesterol, hydrogenated oils, or trans fat
No artificial flavors, preservatives, or colors; No high fructose corn syrup
All natural; minimally processed; vegetarian friendly
Case of six, 12-ounce bags (total of 72 ounces)
Kosher certified; certified USDA organic
Nothing processed, added or sweetenedjust real organic whole grains and seeds
Good source of fiber and protein; vegetarian and vegan
Made in Darien, Conn.
Alpen Muesli Cereal, Dark Chocolate, 11.8 Ounce (Pack of 12)


Grocery (Alpen)




5 gram fiber 20% of your daily fiber needs low sodium no added salt
Great way to energize your morning
Follows the traditional, hearty recipe of Swiss-style muesli
Excellent source of fiber
Very low sodium
Kosher certified

Gourmet Foods Gift Baskets, Deluxe Good Morning Assortment, This Large Serving Tray Contains a Wonderful Assortment of Breakfast Delights. Brimming with Breakfast Blend Coffee, Biscotti, Caramel Wafers, Amaretti Cookies, Tazo Awake and Organic Darjeeling Teas, Two Large Mugs, Pancake Mix and a Bamboo Spoon, Cinnamon Almond Granola, Scone Mix, Bonne Maman All- Natural Grape Jelly, Orange Marmalade, Strawberry and Apricot Preserves, Rocky Mountain Chocolate Factory Hot Cocoa, Truffettes Truffles, Dark Chocolate Piroulines and Dorset Muesli Cereal, All Arranged in This Deluxe Tray, Ready to Serve and Enjoy. Gift Size: 23" X 15" X 6" .


Single Detail Page Misc (WC001)



Related posts: