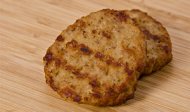 Trying to convince a loved one you need a KitchenAid stand mixer? Looking to find the perfect recipes to break in your new mixer? Skip the search and begin here. We have the top five reasons you need a KitchenAid mixer along with several recipes. From an early morning breakfast to a late night snack, your KitchenAid mixer can cover it all.
Top Five Reasons to Buy a KitchenAid Mixer
So they aren't exactly "reasons" to buy KitchenAid mixers, but below are recipes for every meal of the day. Let's face it, I can tell you about horsepower, warranties, and color options, but it's much more about the products you are going to be creating with your mixer.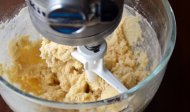 It's the fresh biscuits in the morning, homemade pasta for dinner, and piping hot cinnamon rolls for dessert that make this kitchen tool an absolute must. If you do want the specs, be sure and check out all things KitchenAid from KaTom Restaurant Supply in our special KitchenAid Section.
1. Breakfast Recipes for Your KitchenAid Mixer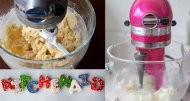 For breakfast, your new KitchenAid mixer can whip up buttermilk biscuits and grind fresh sage breakfast sausage. Not into the traditional southern breakfast? Why not try a vegetarian frittata with dough fresh from your mixer?
Ingredients
1 lb. lean ground pork
1/2 tbsp. brown sugar
1 tsp. dried sage
1 tsp. kosher salt
1/2 tsp. fresh ground black pepper
1/8 tsp. dried marjoram
1/2 tsp. paprika
A pinch of ground nutmeg or allspice
Directions
Begin by grinding the meat using the coarse plate of your KitchenAid food grinder, then spread the ground meat out on a sheet pan and sprinkle the spices evenly over the meat. Mix the ingredients either by hand or in your KitchenAid stand mixer.
Form the meat into small meatballs, approximately 1/2 inches in diameter and then flatten into a patty shape. At this point, you can either freeze or fry your sausage patties.
To freeze, place your patties flat into a freezer bag and store until ready to cook. According to you should use the frozen sausage within two months.
Source: www.katom.com
Sunbeam FPSBSM2596R Mixmaster 350-watt 12-Speed Stand Mixer with Stainless Steel Bowl, Dough Hooks and Whisk, Red


Kitchen (Jarden Consumer Solutions)




350 Watt Motor
12 variable speeds
Soft start technology prevents splatters
Tilt locking head and bowl selector
Includes 4-qt stainless steel bowl and chrome beaters
Related posts: