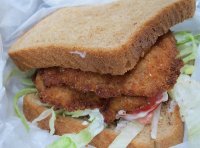 The $4 fried whiting sandwich from Kim's Aunt Kitchen is a culinary dream come true, and you can't get a better one, even up in Harlem.
Three weeks ago, in something of a bad mood, we reviled The 10 Worst Things to Eat Around Times Square, and they were really, really bad - including a mayo-gobbed salad of fake crab meat, a sodden and stale knish from a street cart, and a glued-together foursome of "barbecue" sliders reeking of liquid smoke. No one would eat any of these things except out of sheer desperation, which is what tourists are faced with as they're herded around the city's worst tourist trap by their handlers.
This sainted Cuban lunch counter - a literal stone's throw from Times Square - easily makes our top 10 list.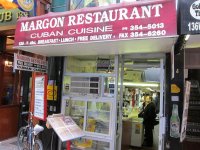 Now, to make amends to those same abused tourists, and to let New Yorkers know that they don't necessarily have to give Times Square a wide berth if they're hungry, we present the 10 Best Things to Eat Around Times Square. So, tie on your bib, jump on the subway, and prepare to be dazzled with our gastronomic suggestions.
As always, if you disagree, or have your own suggestions of spectacular things we've missed, please jot them down in the Comments.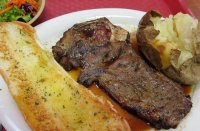 The sirloin special at Tad's Steaks is nearly enough food for two.
10. 10 oz. sirloin steak at Tad's Steaks You always thought Tad's was awful, right? Well, though the meat is not the kind of marbled, grass-fed steak you dream about, and though you'll have to glue your dentures solidly in to eat it, the sirloin is a thing of beauty: flopping over the edge of the plate, cooked over flame as you watch, drooling, to a nice smoky char, ringed with little delicious bits of fat and gristle, swimming in meat juices and accompanied by a baked potato, Texas toast, and a salad. 701 Seventh Avenue, 212-382-1164
9. Ma Po bean curd at Szechuan Gourmet This second branch of a beloved 39th Street Chinese restaurant is only steps from the northern end of Times Square, just off Broadway.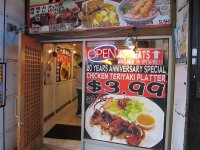 Named after a pock-marked Chengdu street vendor, Ma Po bean curd features silken wiggly cubes in a thick sauce incorporating fermented beans, tiny bits of ground pork, and Sichuan peppercorns, and if you ask nicely, they'll make it mega-spicy. 244 West 56th Street, 212-265-2226
8. Chicken teriyaki at Teriyaki Boy Served with a nicely dressed salad and white rice, and offered at the mind-bogglingly low price of $3.99, the chicken teriyaki is generous and toothsome, and the spare dining room upstairs seems far from the hurly-burly of the Square, but most patrons carry out. We assure you, it tastes much better than the picture looks! 732 Seventh Avenue, 212-265-8181
The $3.99 chicken teriyaki special at Teriyaki Boy must be accounted one of the best deals around Times Square.
Source: www.villagevoice.com
Breville Smart Waffle Pro Stainless Steel 4 Slice Waffle Maker


Kitchen (Breville)




Stainless steel housing with nonstick cast aluminium cooking plates
Makes crispy golden waffles with even heat distribution
Wide wrap around moat catches and cooks overflow
Cooking time is automatically calculated to suit your waffle style and color with Waffle IQ technology
Choose from Belgian, classic, chocolate, or buttermilk with 12 different heat settings
Related posts: