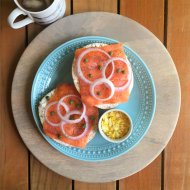 Breakfast. The most important meal of the day. And you've been eating well. Here are 17 delicious breakfasts you ate this week.
Winner: Bagel & Lox

Bagel with Lox & Iced Coffee for sunday brunch. Canon 5D Mark II, F4.0 / ISO 250 / 1/125.
Hannah Ross
Yummy Copenhagen
Shot while standing on a chair at an airbnb with friends in Copenhagen. Leica M9. 40mm Summicron lens.
Andy Baron
T-Bone
This was taken with my iPhone 5s. And yes, this is my breakfast. My buddies and I are doing a nutrition challenge amongst ourselves (basically clean eating). The loser gets a kick in the man parts from the others. I was boasting to them how I was having grilled chicken and part of a T-Bone steak for breakfast. They didn't believe me. :-)
Jeff Lewis
Crossword
I don't usually take photos of my food, in fact I usually just shake my head when I see all my friends posting their dinner on Facebook and Instagram. But having seen the contest, and having the weather turn out so beautifully, I thought I'd take my breakfast and my camera outside for a change and play a little. The camera is a Nikon Coolpix P510. The ISO was 100, the aperture was 5.9, and the shutterspeed was a crazy high 1/1250 because it was so bright out (and so breezy! I thought my newspaper was going to fly away at one point!) As far as technique goes - it was just line up the shot, don't block the sun, and hope nothing blew away while I pressed the shutter.
Catherine Hawkins
Cheesesticks?!?
Nothing fancy about the equipment or settings, it was just taken with a iPhone 6 – breakfast for lunch, natural morning light, and an overhead angle. I was hungry, made the food (except the breadsticks, those are Gouda Cheesesticks from Breads Bakery in NY)
Brian Li
European Breakfast
The photo has been taken while having breakfast with my girlfriend on the balcony of my room in Madrid. I'm Italian and she is Dutch - both here in Madrid to study - so our breakfast has a mixed European influence :-) The camera was an EOS 550D with a fixed 50mm lens with these settings: f/8, 1/500 sec (I don't have a professional tripod here with me) and automatic ISO (400).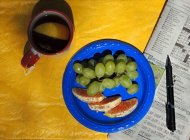 Riccardo Pinardi
Coffee
I'm not a big breakfast eater but i do love my coffee. Saturday morning i happened to catch the sun and my cup at just the right moment. I Didn't have time to rig up a camera stand so i just stood on a chair over my dining table and took the shot. Nikon D610, 50mm f/1.4D Lens, ISO 200, 1/400 shutter, f/1.4
Jerry Garcia
Waffle of Insane Greatness
Can I eat it now? [NOT YET!] Can I eat it NOW? [NOT YET... I NEED TO GET THE SHOT!!] NOW?!? [OK, go ahead. I got it.] Canon G7x, f/1.8, 1/30 sec, ISO-125.
S Wootten
Homemade Latte (Aftermath)
For the challenge I made a latte with homemade whip, freshly shaved white chocolate and ground cinnamon. I forgot to grab my camera beforehand. By the time I had returned, the whip had melted and it looked like a bubbly mess. As I sat there depressed, sipping my lukewarm latte, the idea to show the pitiful remnants of what should have been a fantastic latte. I ripped a square of printer paper with "the end" written on it. I let it soak in the dregs of my coffee for a few seconds before taking the photo. Nikon D600, 28-70 f2.8, f4.5, 1/160 sec, 2500 iso
Source: gizmodo.com
"The Breakfast Table" by Hassam, Framed Artwork Canvas Print Image Wall Picture. Size 24'' x 38'' - 61 x 97 cm.


Home (Trends World)




The Breakfast Table by Hassam, Art Print/Modern Canvas. Size 24x 38- 61 x 97 cm.
The image continues around the frame so the picture is borderless .
Made on brilliant 300 gsm white print material canvas. Stretched on a frame, ready to hang on wall.
Stunning colours, detail and fade resistant for a lifetime.
Due to difference in different monitor setting, the colours might slightly vary. However, we are trying to reduce that difference to minimum. Thank you for kind...
Related posts: