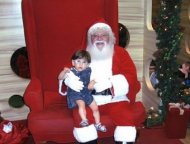 My kids, like most, love Christmas and love Santa. They've already written letters and drawn tons of pictures for the big guy and have debated over exactly what kind of cookies Santa will most appreciate on Christmas Eve (I think they've decided on fresh baked chocolate chip). They also look forward to seeing Santa whenever we head out to go shopping or attend various holiday parties. Interestingly enough, while they love catching a glimpse of him from afar, they've never been keen on posing for pictures with Santa. So I try to find places and events where they can marvel from afar without getting too close for comfort.
There are several places to visit Santa all season long throughout Westchester and we've rounded them up for you here. So if you're looking for a photo op for your little ones (and your pets!), these Santa sightings are sure to delight you and your little ones this holiday season. There are also many Breakfast with Santa events happening around town.
If you're looking fore more holiday activities, check out our coverage on holiday tree lightings, live holiday shows and performances of the Nutcracker, all happening in Westchester.
Smile for Santa - White Plains
The Westchester Mall, 125 Westchester Avenue
Now through December 24
Santa is welcoming visitors at the Westchester Mall. If your little ones are scared to sit for a photo (I don't have a single picture of any of my 3 with Santa—they just won't go for it!), they can still gawk and enjoy the magic of seeing Santa in person from the floors above. Pets can join in the fun also with Pet Photo Nights on November 25 and December 16. Santa is located on Retail Level 1, Center Court.
Santa's Winter Wonderland - Yonkers
Cross County Shopping Center, 8000 Mall Walk
Now through December 24
Check out Santa's Winter Wonderland and have your kids' photo taken with Santa at Cross County Shopping Center. Bring your cats and dogs for pet photos on Mondays, December 1, 8 and 15.
Source: westchester.mommypoppins.com
I Love Breakfast - Large Plastic Key Ring


Toy (BadgeBeast)




Large Key Ring 70.5mm x 45mm printed area
Key ring brightens up any set of keys
Professionally printed design encased in clear plastic
Made in the UK
Fantastic gift idea
Trader Joe's Seasonal Pumpkin Bundle. Trader Joe's Country Pumpkin Spice Granola, and Trader Joe's This Pumpkin Walks Into a Bar Cereal Bar. (2 Items)


Grocery (Trader Joe's)




Trader Joe s Pumpkin Spice Granola Cereal 16 oz Box
Trader Joe s Pumpkin cereal bars 6 bars (1.3 oz ea.) Net Wt. 7.8 0z
Seasonal offered Products

I Love Heart Breakfast - Plastic Torch Key Ring


Toy (BadgeBeast)




Small torch included in the key ring.
Looks great on any set of keys.
Made from silver plastic.
Professionally printed design encased in key ring.
Hold button down to use torch.

Creative Hand-Painted Ceramic Square 8.5" Plate H


Kitchen (Kylin Express)




Microwave and oven use for versatility
Handcrafted pottery from China
Square plate, ideally sized for salad, dessert or afternoon tea
Due to handcrafting, variations and minor imperfections should be expected
Safe for microwave and dishwasher
Related posts: