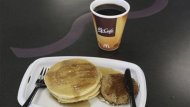 FILE- In this Feb. 14, 2013, photo, a McDonald's breakfast is arranged for an illustration at a McDonald's restaurant in New York. McDonald's says its breakfast menu will be available all day starting Oct. 6, 2015. (AP Photo/Mark Lennihan, File)
Related Coverage
ST. PETERSBURG, Fla. (WFLA) – How does an Egg McMuffin for dinner sound? You can now order off the McDonald's breakfast menu anytime you like. On Tuesday the fast food giant rolled out its much-anticipated all-day breakfast menu.
"Now, customers don't have to rush here and get through all the lines at 10:30 in the morning. It's just good to get them in and get them out real fast and give them something they love, " said St. Petersburg McDonald's employee Norgeia Goldsmith.
"I love breakfast. I could eat it at any time, " customer Diane Barnard said.
The Egg McMuffin is arguably the most beloved McDonald's breakfast item. The new menu has some people wondering about the pinch it could put on the already limited egg supplies and how it could affect egg prices.
"Usually on a weekday, we crack 350 of them. On the weekends, it is much more. Now, we are anticipating doing 400 to 500 per day as the program goes into effect, " St. Petersburg McDonald's franchise owner Missy Stefanos said.
Earlier this year, the outbreak of the avian flu in the United States sent price tags skyrocketing, up to a record $2.57 per dozen this summer, according to United States Department of Agriculture.
McDonald's is already a huge consumer of eggs. Every year, the fast food giant cracks open more than 2 billion eggs in the United States alone.
Now, that number is expected to jump.
Not all breakfast menu items will be available all day at all locations, but most of the classic favorites will be. Below is a list of all items available all day in the Tampa area:
Egg McMuffin
Sausage McMuffin with Egg
Sausage McMuffin
Hash Browns
Hot Cakes with Sausage
Hot Cakes
Sausage Burrito
Fruit & Maple Oatmeal
Fruit 'N Yogurt Parfait
WFLA.com provides commenting to allow for constructive discussion on the stories we cover. In order to comment here, you acknowledge you have read and agreed to our Terms of Service. Commenters who violate these terms, including use of vulgar language or racial slurs, will be banned. Please be respectful of the opinions of others and keep the conversation on topic and civil. If you see an inappropriate comment, please flag it for our moderators to review.
See also:
Source: wfla.com
Trader Joe's Peanut Butter Natural Dog Treats (24 oz), Trader Joe's Beef Recipe Jerky Strips (6 oz.) Plus a Rope Dog Chew Toy. A Great Bundle To Give Your Pets A Happy Day! (3 items)
Pet Products (Trader Joe's)
TRADER JOE S NATURAL PEANUT BUTTER DOG TREATS (24oz)
Formulated for Dogs, Big & Small
Made with All Natural Ingredients- Low Fat
TRADER JOE S BEEF RECIPE JERKY STRIPS (6 oz.)
ROPE CHEW DOG TOY- approx 15 inches
PREMIUM Pure Turmeric Curcumin Features C3 Complex® (750mg) w/ BioPerine®,120 (or 2-Month) Vegi Capsules, 95% Curcuminoids, Maximized Absorption, cGMP Compliance, Patented Herbal Supplement, Non-GMO, 100% Natural, Zero Fillers/Binders/Preservatives/Artificial Ingredients, Kosher & Halal Certified, 100-Day 100% Satisfaction Guarantee
Health and Beauty (NutriPure Select)
✓ 60-DAY-SUPPLY: We got you covered for 2 months. The recommended dosage for Curcumin C3Complex® by the Patent holder (Sabinsa) is 1500mg per day. With our Extra...
✓ OUR COMMITMENT TO YOU: We offer 100 day, 100% money back guarantee. We know your health is the most important thing you have and we are flattered and proud to...
✓NATURAL JOINT PAIN RELIEF SUPPLEMENT*: Turmeric Curcumin is a powerful anti-inflammatory and antioxidant*. It helps knee*, hip*, lower back*, wrist*, foot &...
✓ BEFORE YOU BUY KNOW THESE IMPORTANT FACTS: ♥ 1) Turmeric (Curcuma Longa) belongs to the ginger family Zingiberaceae. To achieve the best results from a turmeric...
✓ UNBEATABLE PREMIUM QUALITY: ♥ 1) Our products follow strict FDA guidelines and are manufactured & packaged in cGMP certified facilities. cGMP means the facilities...
Related posts: