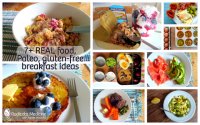 If you're like me, you most likely ate "breakfast foods" most of my life for that important first meal of the day. Somehow, the food industry managed to convince us that we need different types of foods for breakfast, such as breakfast cereals, oatmeal, toasts, bagels, pancakes and other carb- and sugar-rich processed foods that come in boxes or bags with a very low nutrient density apart from the handful of vitamins and minerals these foods are sometimes enriched with.
But if you know a little bit about the way your great grand-parents ate or if you have traveled a little, you certainly know that breakfast wasn't always this way and it's (fortunately) still not this way for millions of people. Most people around the world eat similar food for breakfast as they do at lunch or dinner: REAL food.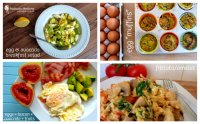 If you're trying to switch to a REAL food-based diet (whether you call it Paleo, gluten-free or grain-free), it might be difficult to know what to eat for breakfast at first but you'll see that it gets easier with time. You'll also see that you can be a lot more creative and have more variety in your diet. Because let's face it… bagels, breakfast cereals, toasts, muffins, pancakes and waffles are all the same thing: wheat, grains and sugar.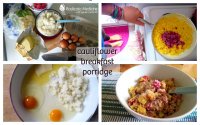 They're just packaged a little bit differently!
Here are a few of my favorite grain-free, gluten-free, and dairy-free breakfasts made with REAL food ingredients to start your day with the perfect nutrition punch that will keep you energized until lunch without feeling your typical mid-morning crash.
The easiest way to get started with gluten-free, grain-free or Paleo breakfasts is to turn to eggs. That's what many people do and it's great because eggs, especially the yolks, are super nutritious.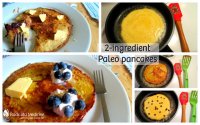 Eggs are also super versatile and can be used to create a variety of interesting breakfast ideas.
Clockwise from top left:
Avocado & Egg Breakfast Salad: hard-boiled eggs with avocado + lemon juice + EVOO (extra-virgin olive oil) (recipe here)
Egg "muffins": combine eggs with your favorite combination of vegetables, seasonings and even bacon / sausages to make these grain-free muffins (recipe here)
Frittata, omelets or scrambled eggs: simply combine eggs with your favorite veggies (I like onions, mushrooms, spinach, tomatoes) and cook either as a frittata, omelet or scrambled eggs in either coconut oil, ghee or butter. Sprinkle with good quality cheese if you tolerate a bit of dairy.
Fried eggs + bacon + vegetables / fruits: breakfast couldn't get any easier, just serve your eggs any way you like with fruits, vegetables / avocado and bacon / ham.
See also:
Source: radicatanutrition.com
Simple Squares Organic Snack Bar, Coconut, 1.6 oz. Bars, 12 Count


Grocery (Simple Squares)




12 Nut and Honey Squares infused with vanilla and herbs
Nuts + Honey + Vanilla + Sea Salt + Herbs = SIMPLE!
NO wheat, gluten, dairy, soy, corn and refined sugars
Paleo-friendly, Raw, Organic, Non-GMO, Kosher
High protein, low sodium, low sugar
Health Junkie: The Ultra Energy Bars That Last (Combo Pack - 12 Count) ~ Gluten Free, Never GMO's and Always Organic Ingredients ~ Delicious Chocolate Nectar (6 Bars) ~ Vanilla Cashew Cherry (6 Bars)
Health and Beauty (YouBar)
Finally, a bar that doesn t taste like cardboard, yet is all natural, with organic and gluten free ingredients.
Get a healthy breakfast on the go or a quick snack to hold you over. Our bars include healthy fats that provide sustained energy and leaves you satisfied. And zero...
These energy bars will tickle your sweet tooth and satisfy those pesky sugar cravings while delivering wholesome ingredients to your body that you can actually pronounce.
Get the finest, balanced nutrition for vegetarian, dairy free, vegan or paleo diets. We have love for all.
This is the perfectly wholesome, family friendly moist and chewy snack with a taste that even your kids will love.
Dr. McDougall?s Right Foods Organic Maple Oatmeal Cups Made with Organic Gluten Free Oatmeal, 2.5-Ounce Cups (Pack of 6)


Grocery (Dr. McDougall's Right Foods)




Case of six 2.5-ounce cups of hot cereal mix (total of 15 ounces)
Made with organic whole grains and pure maple sugar
Vegan and low fat; contains no cholesterol or saturated fat
Quick and nutritious individual servings; good source of fiber
All-natural, heart-healthy foods from the renowned McDougall Program in Santa Rosa, California

Simply Protein Bar Peanut Butter Chocolate, 1.4-Ounce Bar (Pack of 15)


Grocery (Simply Protein Bar)




15 protein bars/box: Each bar has 15 g of protein & 150 calories
Gluten & milk free
Vegan, all natural, kosher dairy
Low glycemic; Suitable for diabetics or people concerned about blood sugar for weight loss or other reasons
Easy to digest; Under 10 ingredients per bar

Namaste Foods, Gluten Free Sugar Free Muffin Mix, 14-Ou,nce Bags (Pack of 6)


Grocery (Namaste Foods)




Case of 6 mixes (total of 84 oz) Makes 1 dozen
Wheat Free, Gluten Free
Dairy, Corn, Soy, Potato, Casein & Nut Free
Dedicated Facility, made in the USA
Ships in Certified Frustration-Free Packaging
Related posts: