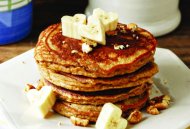 Breakfast of Champions
Eat like an Athlete and perform like a Beast
By Heather Connell
The iconic brand Wheaties has a long association with sports and has been around for nearly 90 years, best known for its "Breakfast of Champions" slogan. We have all been told "eat your wheaties" and you will be strong like all the athletes on the cereal box. But if your first meal of the day is usually a bowl of sugary cereal from those convenient "healthy" cute boxes, a bagel and cream cheese or a muffin and a cup of coffee — your first meal of the day is going to be a nutrition-free breakfast and certainly not one of a champion. It's a hormonal roller coaster ride of heavily-processed, appetite-stimulating and weight-inducing 'empty' calories. Rethink the most important meal of the day and nix the wheat, gluten, sugary carbs and cow's milk and start with a nutritionally-dense meal every morning full of quality macronutrients.
Food is food no matter what time of day, and the morning is a great time to eat Good Food!
Banana Cinnamon Pancakes
There are mornings, especially after a tough weekend workout, where I crave a nice plate of warm pancakes. You can still enjoy these cravings with a Paleo lifestyle, of course without the grains and sugar. These pancakes are a favorite in my house.
1/2 cup ripe banana, mashed (about 1 banana)
2 eggs
1 tablespoon almond butter
1 tablespoon maple syrup (optional)
1 tablespoon canned coconut milk
1 teaspoon vanilla extract
1/2 cup almond flour
2 tablespoon coconut flour
1 1/2 teaspoon ground cinnamon
1/4 teaspoon sea salt
1/4 teaspoon baking soda
Instructions:
Heat griddle or non-stick skillet over medium heat.
In a large bowl add banana, eggs, almond butter, maple syrup, coconut milk, and vanilla and using a hand mixer combine the ingredients until smooth and blended.
Add almond flour, coconut flour, cinnamon, salt and baking soda to the wet ingredients and mix again with hand mixer until everything is incorporated.
Melt a little coconut oil on the heated skillet. Then add about 1/4 cup to about 1/3 cup batter to the skillet to make a pancake size circle. Allow the pancakes to cook on one side for 3 to 4 minutes. You do not want to flip the pancakes too soon or they will break apart. So allow them to cook on one side until golden. Then carefully, using a spatula, flip the pancake over to cook on other side.
Continue with remaining batter. And AGAIN, these will need to cook on the skillet longer than traditional pancakes so be patient. I know it's hard, but I promise it will be worth it. Also, keep the heat on medium to avoid them from burning.
Source: sweatrxmag.com
Lopopo Sex Breakfast Of Champions Slogan T Shirts, Red, L


Apparel ()




Shipping from LONDON / UK. Standart shipping takes 7 to 15 days to US. 100 % Cotton T Shirt
Fast shipping to USA and Rest of the World with FedEx and USPS
Machine washable, Cold Wash Reverse, No Tumble Dry, Iron Reverse
Nice Premium Direct To Garment Printed graphics
100 % Cotton T-Shirt
Related posts: