"Century House [best location in town] located a couple of blocks from the bustle of town on Cliff Road, fits the mold, with weathered shingles, white picket fence, wraparound porch and planters overflowing with hydrangeas, geraniums and pansies." -Rhode Island Monthly
Century House bed and breakfast inn has the best location on Nantucket Island, within a 5 minute walking distance to town, main area, bike paths restaurants and about 12 minute leisure walk to the sparkling beaches all nearby. Search Google Maps for in depth location info. You can arrive at the inn by walking from the Steamboat Wharf and Sraight Wharf ferry docks or by taking a taxi from the airport. There is also public transportation during the high season from the airport. You can check the Wave, Nantucket Regional Transit Authority. Nantucket can easily be accessed by ferry, private boat and airplane. The best way is to travel by ferry, arriving on Nantucket Island. There is no bridge to Nantucket Island.
The island has two ferry docs or wharfs, Steamboat Wharf (servicing Steamship Authority slow ferry and a fast ferry), and Straight Wharf (servicing Hy-Line Cruises). Closest to Century House is Steamboat Wharf. There are two ways to get to our inn from the Steamboat Wharf on Nantucket. Around the island: you can walk all over Nantucket, or bike to all the beautiful beaches.
1. Start out South on MACYS LN toward OLD SOUTH RD. 0.11 mi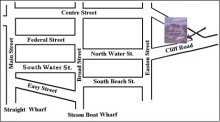 2. Turn LEFT onto OLD SOUTH RD. 1.45 mi
3. Enter next roundabout, take 2nd exit onto SPARKS AVE. 0.69 mi
4. SPARKS AVE becomes S PROSPECT ST. 0.41 mi
5. Turn RIGHT onto NEW MILL ST. 0.08 mi
6. Turn RIGHT onto MILK ST. 0.10 mi
7. MILK ST becomes GARDNER ST. 0.12 mi
8. GARDNER ST becomes LIBERTY ST. 0.09 mi
9. Turn SLIGHT RIGHT onto LILY ST. 0.22 mi
10. Turn LEFT onto CENTRE ST. 0.02 mi
11. Turn RIGHT onto CHESTER ST. 0.06 mi
12. Turn SHARP LEFT onto CLIFF RD. 0.06 mi
Total Estimated Time: 8 minutes Total distance: 3.42 mi
1. Start out West on STEAMBOAT/ BROAD ST. toward EASY ST. Continue on BROAD ST. 0.11 mi
2: Turn RIGHT onto N WATER ST. 0.19 mi
3: When cobblestones end, CLIFF ROAD begins! 0.01 mi
4: Turn SLIGHT RIGHT onto CLIFF RD. and go slightly up the hill. 4th house on the LEFT! 0.09 mi
Source: www.centuryhouse.com
Related posts: