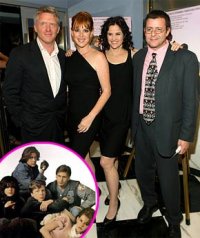 Twenty five years after filming The Breakfast Club, the cast of the iconic 80s teen movie reunited Monday night for a Film Society of Lincoln Center event in New York City to remember its late director John Hughes, who died of a heart attack at age 59 last year.
UsMagazine.com caught up with the Brat Packers - who haven't appeared together since the Academy Awards in March (missing: Emilio Estevez) - for the latest on their lives.
MOLLY RINGWALD, 42 Known for her role as rich girl Claire Standish, the actress - who now plays Anne Juergens on ABC Family's The Secret Life of the American Teenager - says she has yet to turn her three daughters on to the beloved comedy. "My eldest is 6-years old, and my twins are 14-months, so I've got a little time, " said the actress, who is wed to writer Panio Gianopoulos. She has no doubt the film will reach generations. "There's been nothing to replace it, " she told Us. "Until something comes along that can hold a candle to these movies, they will continue to be what they are." Where would her character, Claire, be today? "Maybe she's been married a few times, " said Ringwald. "Hopefully she's happy."
ANTHONY MICHAEL HALL, 42 He has gone on to appear in such movies as Weird Science and Edward Scissorhands and is now producing and starring in the upcoming thriller, The Aftermath. But it's his role as the nerdy Brian Johnson that has resonated with him the most. "I think the point of the film is to see yourself in others – that we're more alike than we realize, " said Hall, who is now sober after battling a drinking problem. "John Hughes gave me my start. I think that Hollywood always glamorized things and put things on a pedestal. John allowed us all to feel vulnerable. He was brilliant at using humor to get to that place."
JUDD NELSON, 50 Where would his character, the rebellious John Bender, be today? "He'd clearly be the principal of that high school!" Nelson told Us. "He knows a lot of what those kids are going though." Nelson - who has nine movies in the works, including Brookwood Sleazebags, which he is producing - said he feels "sadness" looking back at his work with Hughes. "I can't believe he's gone, " he told Us. "I always assumed we'd work together again on something."
ALLY SHEEDY, 48 "There was an awful lot of me in Alison, " she told Us of playing the quirky Allison Reynolds. "Alison is very close to who I was." She said she can see her character today working on some off-Broadway shows "and cool dance performance groups." In real life, Sheedy (who overcame a sleeping pill addiction) has guest-starred on shows like CSI and had a reoccurring part on Kyle XY. Her favorite role: Being mom to 16-year-old daughter Rebecca. Of motherhood, she told Us, "It's so cool. It's pretty wonderful."
Source: www.usmagazine.com
Hot Wheels Wall Tracks Boardwalk Blast Track Set


Toy (Mattel)




Hot Wheels Wall Tracks brings stunts, speed, turns and tricks to new heights
Wall Tracks is a wall mounted track play system
Expand your world of Wall Tracks and build more stunts and action all over your walls
Can be used alone or connected to other Wall Tracks sets to increase the fun
Includes 1 die-cast Hot Wheels car, safe-for-walls 3M Command Strips and easy instruction poster
Related posts: