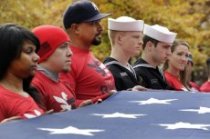 Volunteers with the veterans advocacy group Team Red White and Blue unfurl a large American flag Sunday at the National September 11 Memorial in New York. The memorial and museum is honoring veterans through the weekend, leading up to Veterans Day, Nov. 11. (AP Photo/Mark Lennihan)
Photo by Associated Press /Times Free Press.
Free food, free park admission and free financial service are among dozens of ways Chattanooga-area businesses are honoring veterans. Veterans Day is tomorrow.
Free Food
• Krystal is offering a free sausage biscuit to veterans and active military personnel tomorrow from 6-10:30 a.m.
• Today through Thursday, Red Lobster is offering free appetizers to veterans and active duty military.
• Chuck E. Cheese is giving 20 free tokens to U.S. military vets and active-duty military through Saturday.
• Tomorrow, Applebee's will offer veterans a special free menu including three-cheese chicken penne, a cheeseburger or an Oriental chicken salad. Guests should provide proof of service by bringing their U.S. Uniform Services Identification Card, Veterans Organization Card, or a photograph in uniform, or come in wearing their uniform.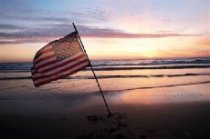 • Applebee's also encourages patrons to show gratitude by leaving a message for current and former military members at ThankYouMovement.com. Visitors may also share the story of a veteran or active service member or military family in need. The nominator should describe the veteran's or service members' situation, include their service and what household item might make their everyday life a little easier. Applebee's is saying "thanks" by also fulfilling some of those needs.
• Chili's will give a free meal to veterans and those on active duty who show proof of military service on Tuesday.
• Cleveland State Community College will provide a free breakfast for veterans from 7:30-10:30 a.m. at the Campus Kitchen and will host a Veterans Day Ceremony at 11 a.m. in the George L. Mathis Student Center Commons area at 3535 Adkisson Drive.
• Also on Tuesday, First Baptist Church of Soddy-Daisy will provide veterans with a free luncheon from 11:30 a.m. to 2 p.m. However, there will be a $5 charge for guests. Contact WV or Linda Roberson to volunteer to help with the luncheon or to bring a dessert.
• IHOP will offer vets and active military free Red, White and Blue pancakes from 7 a.m. to 7 p.m. Tuesday.
• Krispy Kreme will give a free doughnut and small coffee to anyone who identifies himself or herself as a veteran or active duty military tomorrow.
.
Source: www.timesfreepress.com
Wax Wick and Flame Perfume Grade Fragrance Scented Soy Candle 8 Oz, 40 Hour Burn Time Series: Time Scent: Dawn - Oats Mixed with Coconut Milk and Fresh Botanicals
Home (Posh Portage)
VEGAN, plant based soy wax, hand poured and hand blended scents, made in LA, 100% lead free, 100% cotton wick, clean burning, no chemicals no paraffin, ingredients...
Smells like fresh milky goodness. Imagine sitting down for breakfast and putting your nose into a bowl of oats tossed with coconut milk and you just happen to be...
Afternoon - Fruit Flower Blossom and Ripe Summer Peach | Dawn - Oats Mixed with Coconut Milk and Fresh Botanicals | Dusk - Warm, Light, Woods, Floral and a Hint...
Candle Instruction & Care: Let burn for 30 minutes or until a thin film of melted wax has formed between the wick and the inside edge of container. This is...
Related posts: