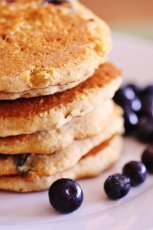 Most days of my short break from school have gone the same way: my mom and I rise at around the same time (early), and she goes off to work (my mom is an artist and an art teacher), while I stay at home to work on my blog/business, and to see friends. This means we haven't shared too many breakfasts together, so it was a real treat for us both to sleep in a little today and eat a "fancy" meal together in the morning. On my way to the gym, I asked my mom how cornmeal pancakes sounded; she said they sounded great. So upon my return, I set about whipping up this plate of fluffy lemon blueberry cornmeal pancake deliciousness. 20 minutes later, breakfast was served.
One of the first cornmeal pancakes I ever tried were cornmeal and raspberry pancakes from my friend Eat, Drink and Be Vegan (a book I highly, highly recommend). It was love at first bite; I appreciated the unusual texture of the pancakes, which were someplace in between a very light bit of cornbread, and a traditional breakfast treat. I subsequently learned that cornmeal pancakes are actually a classic breakfast dish (though vegan varieties are a newer invention). Popular combinations seem to be blueberry cornmeal, raspberry cornmeal, and lemon cornmeal. Lemon fanatic that I am, I figured I had to try a lemon variety sooner or later.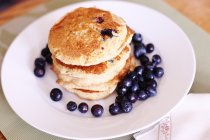 My mom, however, is a blueberry pancake fan, and so I decided to try my hand at a hybrid of the two recipes this morning.
I used brown rice flour in this recipe, though whole wheat pastry flour, buckwheat flour, all purpose flour, all purpose GF flour mix, and sorghum flour would all work quite nicely. I also highly recommend—nay, I almost insist—that you use a finely ground cornmeal here. Medium grind works nicely for polenta and breakfast cereal, but for delicate pancakes, you'll want a fine grind. You can find this at the supermarket, or order online; Bob's Red Mill makes one for sure. If you really can't find fine ground cornmeal, medium will do, but forget about course grind; your pancakes will be much too gritty, and they won't be fluffy the way pancakes ought to be!
Source: www.choosingraw.com
Wax Wick and Flame Perfume Grade Fragrance Scented Soy Candle 8 Oz, 40 Hour Burn Time Series: Time Scent: Dawn - Oats Mixed with Coconut Milk and Fresh Botanicals
Home (Posh Portage)
VEGAN, plant based soy wax, hand poured and hand blended scents, made in LA, 100% lead free, 100% cotton wick, clean burning, no chemicals no paraffin, ingredients...
Smells like fresh milky goodness. Imagine sitting down for breakfast and putting your nose into a bowl of oats tossed with coconut milk and you just happen to be...
Afternoon - Fruit Flower Blossom and Ripe Summer Peach | Dawn - Oats Mixed with Coconut Milk and Fresh Botanicals | Dusk - Warm, Light, Woods, Floral and a Hint...
Candle Instruction & Care: Let burn for 30 minutes or until a thin film of melted wax has formed between the wick and the inside edge of container. This is...
Related posts: