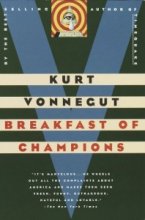 September 7th, 2011, now my third Vonnegut book!
The premise:
Kilgore Trout is a science fiction novelist. Dwayne Hoover is a car salesman on the brink of insanity. One of Kilgore Trout's science fiction books proposes everyone on Earth is a robot, except for the reader of the book, who has free will. Dwayne meets Trout, reads the book, believes it to be a personalized message from God, and goes on a violent rampage.
The reader is told this succinct plot summary in the very first pages. The novel then starts from the beginning of the outline, with Kilgore Trout setting off for travel to Midland City where he will eventually meet Dwayne and become the spark that initiates his downfall.
THERE IS TOO MUCH TO WRITE ABOUT THIS BOOK! I can't make it through without rambling. Maybe I'll give a tl;dr version?
This book could have been mediocre but instead it's amazing
This book would be terrible if Vonnegut didn't have a remarkable intuition for storytelling
Vonnegut uses 3 gimmicks here: drawings, Kilgore's micronovels, and author-in-story
Thought the micronovels were well done, the author-in-story was brilliant
Wasn't really sold on the drawings
And with that, the avalanche!
SPOILER TIME
Breakfast of Champions is not a book everyone will like, though it is a book that is trendy to like. The details of the story — Kilgore's chaotic journey to the city, Dwayne's encounters with his townfolk in the mean time — are silly and contrived. To say that this sort of neglect is "intentional" might suggest that it is done for artistic effect, which I don't think it is, but the weak story is certainly a conscious decision: Vonnegut mostly cares about having a stage to place his witty and thoughtful ruminations on life, and he'll abuse the plot however necessary to accommodate that.
But Vonnegut would be a poor writer in my mind if all this novels were just weak scaffolds for his numerous opinions, even if his opinions are interesting, or well-written. What impresses me so much is Vonnegut's seemingly random anecdotes and ramblings do have a greater tangible purpose — and so cleverly packaged!
Humans are Machines
Much of this book is about distance and selfishness. Vonnegut's fascinated by humans' ability to over-sentimentalize when a tragic situation is current and obvious, like the 2 monuments made for the high school football player (brilliant anecdote btw), but to turn so cold and unfeeling when there's any bit of distance from the matter.
Source: www.victoriakirst.com
Rich Diesslins Funny Ten Commandments Cartoons - Ten Commandments, Breakfast of Champions - 18 x 27 inch Garden Flag (fl_2565_2)


Lawn & Patio (3dRose LLC)




Overall dimension (in inches): 18 x 27; image size (in inches): 16 x 16
Made of 100% single-ply semi-opaque polyester
Image is printed on one side, with a lighter image visible on the backside
Suitable for hanging from a flag pole (8mm in diameter), on a wall, ceiling, banisters or doors
Hanging hardware/pole not included
Rich Diesslin The Cartoon Old Testament - Isaiah 7 10 15 Breakfast of Champions Bible curds and honey cheerios cereal immanuel breakfast - 18 x 27 inch Garden Flag (fl_19567_2)
Lawn & Patio (3dRose LLC)
Overall dimension (in inches): 18 x 27; image size (in inches): 16 x 16
Made of 100% single-ply semi-opaque polyester
Image is printed on one side, with a lighter image visible on the backside
Suitable for hanging from a flag pole (8mm in diameter), on a wall, ceiling, banisters or doors
Hanging hardware/pole not included
iPhone6 Plus Sports Armband, Nancy's shop Easy Fitting Sports Universal Armband With Build In Screen Protect Case Cover Running band Stylish Reflective Walking Exercise Mount Sports Sports Rain-proof Universal Armband Case+ Key Holder Slot for Iphone 6 Plus (5.5 Inch) (Sky blue)


Wireless (Deego)




Designed specifically for iPhone 6 Plus, Lightweight armband keeps your phone secure and protected.
Water Resistant and sweat-proof funtion to better protect your mobile phone, make you feel more comfortable during exercise,Due to varying color display...
Built in Reflective strip for safe running in low light conditions. Built-in Key holder. Cutouts for easy access to headphones port and controls. A sweat resistant...
Material: Lightweight soft neoprene that is molded to twist and bend but will not stretch out of shape. Washable with gentle soap and water, then air dry. Can keep...
Functionality: Provide excellent protection during sport, such as running, biking, jogging, walking, working out etc. Touch screen works through the clear cover
Related posts: