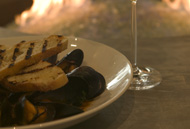 Boasting a decadent assortment of Santa Monica dining and lounge options, we find that guests love to linger at our restaurants and bars. You will want to take in every detail and savor every bite when you enjoy the fabulous cuisine at Ocean & Vine, our signature restaurant, offering al-fresco meals. Or simply relax fireside, poolside or bar side in one of our comfortable bars and lounges.
Ocean & Vine
Breathtaking ocean views are just the beginning at Ocean & Vine, offering thoughtful farm-to-table California cuisine creations.
Blue Streak
Savor a truly exhilarating setting overlooking the sparkling Pacific. Have lunch, relax with a drink or linger late - poolside or fireside. Enjoy sandwiches and snacks served daily with a side of stunning ocean views.
Papillon and Fireside Lounge
Take in the amazing ocean and poolside views at our alluring lounge. Relax in style at this chic, California casual bar serving tantalizing tapas-style dishes, Loews Seasonal Craft Cocktails and our signature happy hour, 6 at the Beach.
Beach Barn
Just in time for summer, Loews Santa Monica Beach Hotel has open a new poolside ice cream shoppe, the "Beach Barn, " which serves artisanal ice cream from the popular local L.A. Creamery and offers fun flavors in addition to candy options.
Source: www.santamonicaloewshotel.com
Santa Fe Culinaria Blue Corn Pancake Mix 15 Oz


Grocery (Santa Fe Culinaria)




Enjoy the taste of the Southwest with this blue corn pancake mix made in Santa Fe, New Mexico
A blend of finely ground organic Hopi heirloom blue cornmeal, unbleached spring wheat, organic oat flour and organic soy flour for a delicate texture and unique...
15 oz bag
Related posts: