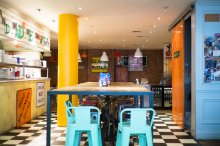 You can get full breakfasts all day long at The Breakfast Club – Hoxton. If your hungry and after something hearty and greasy, you're sure to leave The Breakfast Club with your belly full!
The Breakfast Club in Hoxton is a short walk away from our home, and we found ourselves here early one morning when we were craving something hearty and greasy. The Breakfast Club serves up full breakfasts all day long in its spacious diner-esque setting.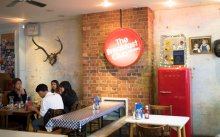 When you walk in, the mismatched old furniture, assortment of hanging lamps, and colorful decor may be the first items to jump out at you. After sitting down and taking a closer look around, you'll probably start to notice the odd Smeg refrigerator in the corner, the out of place antlers hanging on the walls, and the irrelevant road signs nailed on randomly to the walls and counters. You can find interesting articles of old stuff in every nook and cranny; you can get really good game of I-Spy going!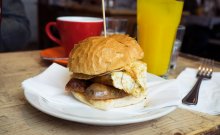 The pictures might be a bit deceiving because it's empty. I hate waiting for a table for brunch (I'm always so hungry in the morning!), so we always go early to avoid a crowd. These photos were taken at 9 AM. Clearly, this is before the locals are awake and searching for food. By mid-morning though, there's often a queue out the front door, and every table is taken.
We ordered a sausage butty, which for the non-British just means a sausage sandwich, and the chorizo hash brown. I am a sucker for anything with potatoes and chorizo, so I couldn't pass it up. My chipped enamelware (I thought it gave it character) was filled with homestyle potatoes, chorizo, mushrooms, and bell peppers, and all topped with two perfectly runny eggs. I gobbled it down by the forkful, and happily satisfied my hunger pangs. Jonathan sat next to me and finished his sausage butty without stopping to talk between bites (he did stop to offer me one bite though!).
The Breakfast Club – Hoxton
Address: 2-4 Rufus Street, London N1 6PE
Opening hours: Monday to Wednesday: 8 AM – 11 PM; Thursday – Saturday: 8AM – Midnight; Sunday: 8 AM – 10 PM
Source: www.theworktop.com
Melissa & Doug Clacking Key Ring


Toy (Melissa & Doug)




Beautifully designed wooden toys for babies
Simple mechanics reinforce concepts of cause and effect
Hide-and-reveal designs develop concepts of object permanence
Bright colors stimulate visual development
Wipe-clean hardwood offers durability and safety
Related posts: