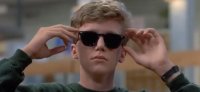 Since we're weekend warriors now, it only makes sense that we break from the pack and engage in some rampant free-thinking. Pretty soon YouTube and Hollywood should completely merge and we will be seeing our favorite YouTubers starring in our favorite TV shows and movies. Of course, until that point, we can only speculate on what might have been had this merger happened 10, 20 or 500 years ago. So every weekend, we take a pop culture movie and recast it with YouTubers who we think might have worked perfectly in that role.
This week: The Breakfast Club
Okay, I've wanted to recast this movie with YouTubers for a while. All of them have already fallen into place in my mind time and time again, so it's pretty exciting. For once, someone with more ambition than me needs to get off their lazy ass and make this thing happen. I promise to torrent it if it does get made though, so there's that. Also, like the original, my version is cast with kids who are clearly way too old for high school.
If you aren't familiar with this John Hughes classic, you need to jump on Netflix stat, because it is one of the most iconic films to come out of the 80s. Starring key members of the Brat Pack, including Molly Ringwald, Judd Nelson and that guy who was in Mighty Ducks (Emillllliooooo!), The Breakfast Club is the story of five high school tropes locked in a room together for Saturday detention: "You see us as you want to see us…in the simplest terms and the most convenient definitions. You see us as a brain, an athlete, a basket case, a princess and a criminal." And don't forget that closing where the Simple Minds song, "Don't You Forget About Me" plays. Damn, it's just about perfect. But my version would be BETTER:
John Bender
Played in the movie by: Judd Nelson
Played in our version by: VitalyZDTv
The bad-boy criminal. John Bender is the plum role in The Breakfast Club. He was the guy that every other guy wanted to be — the badass who simply doesn't give a f**k. Who does that sound like on YouTube? If you said VitalyZDTv, well, you're exactly right. Vitaly alone has the swagger to be this much of a troublemaker and to piss off the principal, Richard Vernon.
Claire Standish
Played in the movie by: Molly Ringwald
Played in our version by: Michelle Phan
The princess. She's so straitlaced and goody two shoes she doesn't belong in Saturday detention with the likes of John Bender. But since she's here, she might as well learn that she's not as perfect as she thinks she is. And who on YouTube could learn that lesson better than a style queen? Michelle Phan would do nicely here.
Andrew Clark
Played in the movie by: Emilio Estevez
Source: newmediarockstars.com
BREAKFAST CLUB - IDK - BLACK - L


Apparel (American Classics)




Officially Licensed
Printed here in the USA
Machine Wash, Tumble Dry
The Breakfast Club Vintage Guy Fist Pump Men's Green T-shirt L


Apparel (American Classics)




Officially Licensed
Printed here in the USA
Machine Wash, Tumble Dry
BREAKFAST CLUB CLUB-PILLOW CASE-WHITE-ONE SIZE 20 x 28 Polyester


Home (Trevco)




Officially Licensed
Hand Printed in the USA using a dye sublimation process that creates slight imperfections over seams and folds.
100% Polyester 20 X 28
Front Side Print Only With A Blank Bank
Ligth Weight, Ultra-Soft Feel

Breakfast Club Men's BC Poster Classic T-shirt Medium White


Apparel (Trevco)




Officially Licensed
Cotton Pre Shrunk Machine Washable
High Quality

BREAKFAST CLUB POSTER-FLEECE BLANKET-WHITE-ONE SIZE 30 x 60 Polyester


Home (Trevco)




Officially Licensed
Hand Printed in the USA using a Dye Sublimation Process that creates slight imperfections over seams and folds.
100% Polyester 36 X 58
Front Side Print Only With A Blank Bank
Designed as a Novelty Item to Withstand the Rigors of Sublimation
Related posts: