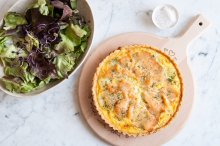 Smoked salmon is, admittedly, not an everyday ingredient, but I do love to keep some in the fridge for a quick lunch with some lightly buttered white toast, thinly sliced onions, a scattering of salty capers and a good squeeze of lemon. But when I'm wanting to incorporate smoked salmon into a more substantial meal, this Potato, Smoked Salmon & Dill Tart is a lovely option.
One of my favourite snacks when I lived in Australia were cheese scrolls from the local bakery. In fact, as a child of parents who ran a busy Vietnamese bakery, I often lived for the moment when the cheese scrolls came fresh out of the oven. Even better when there were onions in the mixture. My parents also made pizza scrolls as a variation, but I had a soft spot for just the plain cheese version.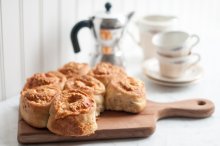 So when I came across this recipe for Three Cheese Bread in Rachel Allen's latest cookbook, Rachel's Everyday Kitchen, I knew I had to make it soon.
As an Australian married to a Frenchman, could there be a more perfect cake to represent the union of our two cultures than the madelamington, a French madeleine dressed up as an Australian lamington? No, I didn't come up with this name, but I am rather disappointed that I didn't coin this term myself.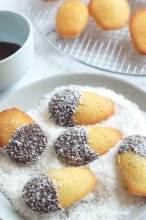 In fact, as a frequent baker and consumer of madeleines and lamingtons, I wonder how the idea of marrying these two cakes had never occurred to me.
It was precisely this recipe in Rachel Allen's new book, Cake, which prompted me to buy the book. Not that I really needed a recipe – I could have used my go-to madeleine recipe and the chocolate icing from my lamington recipe. But the idea of the madelamington itself was so cute that I was sold on the book.
Regular readers will know that I am a big fan of Irish cook, Rachel Allen.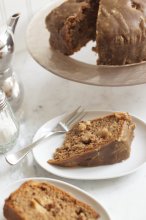 So when her new cookbook, Cake, was recently released, I promptly ordered it online and eagerly awaited its arrival in my mailbox. I did secretly wonder how it would compare to her other baking handbook, simply called Bake, which I have used quite frequently in recent years. But as it is not unusual for one of her books to find its place on my kitchen counter on any given week, there was no need for me to hesitate when it came to this purchase.
Her new book is filled with beautiful photography and, more importantly, great-looking recipes. I thought I had more than enough baking books on my bookshelf (well, actually, I do!), but I was pleasantly surprised to find a lot of inspirational recipes in Cake. Some recipes appear to be tweaks on those found in her earlier books, but many of the recipes will be a refreshing find for readers.
Source: eatlittlebird.com
IamTee Womans I Eat Hills for Breakfast T-Shirt-Green-XXL


Apparel ()




Womens 100% Cotton Heavy Weight T-Shirt (Safety Green and Safety Pink are 50% cotton 50% polyester)
Available in many colors
Available in 5 sizes
Related posts: