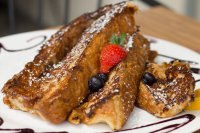 5 suggestions for a tasty breakfast in downtown San Diego, including the Gaslamp Quarter, the East Village, and the Marina district, plus suggestions on what to order and a few insider's tips.
The Mission ($)
Hands down, my favorite spot for breakfast in San Diego. The Mission's got it all: great coffee, excellent French toast, vegetarian-friendly options, even gluten-free bread. Better yet, everything is affordably priced, and the portions are ample. On weekends, it's busy around brunch time, so arrive early to beat the rush.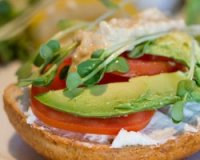 Recommended dishes: French toast, blueberry cornmeal pancakes, Mission Rosemary, papas locos (with eggs)
Insider's tip: You can add eggs and bacon to one of the sweet options for a couple extra dollars. It's the perfect complement of sweet and savory, and just enough food to split between two people.
Zanzibar Cafe ($-$$)
If your first thought upon waking up is "coffee", Zanzibar is a great option. Grab an espresso-based beverage (the mochas are my favorite) and take a seat outside.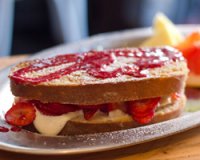 Or, if you're looking for a more "complete breakfast", there's a full menu with slightly more upscale takes on the classic egg preparations, including scrambles, omelettes, and bennys. They also offer acai bowls, something every visitor to San Diego should try at least once. Think of it as a thick berry smoothie/fruit salad hybrid.
Recommended dishes: Cowboy's eggs, Southwestern omelette, The Californian (bagel platter), acai bowl
Insider's tip: If you arrive early enough, you can score a day-old baked good for . They're located in a basket by the cash register closest to the espresso machine (on the window side).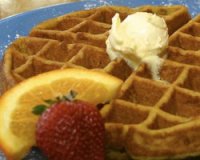 Cafe 21 ($-$$) Located in the center of the Gaslamp Quarter, Cafe 21 is a good option for a more exciting first meal of the day than what you'll find elsewhere. It's a place where French toast is stuffed with mascarpone and ricotta cheese and topped with fruit (banana, strawberry, or peach), and omelettes are dressed up with lamb sausage, goat cheese, and filet mignon. Pancakes and French toast are under $10, other dishes top out at $15.
Recommended dishes: stuffed French toast ("Azeri style"), spicy Monte Cristo sandwich, chicken curry cakes
Cafe 222 ($)
This quirky cafe is busiest on weekends, but the cheap eats are worth the wait. Settle in for plenty of coffee and one of the dressed up waffles, like the peanut butter waffle, topped with sliced bananas, or try the other house specialty: pumpkin waffles. They've also got more lunch-like fare, but for me, this place is all about the sweeter side of the menu.
Source: www.ejeats.com
Table Mats background in grunge style with splatters and hand letter Image 2094301 by MSD Customized Tablemats Stain Resistance Collector Kit Kitchen Table Top DeskDrink Customized Stain Resistance Collector Kit Kitchen Table Top Desk
Home (MS Depot)
MADE IN USA. Designed, Printed and Shipped out of our California Facility. Item is sold under our Private Brand MSD ONLY. 100% Satisfaction GUARANTEED, be aware...
State of Art printing technology, 8-Color offset lithography printing to ensure the HIGH RESOLUTION, LONG LASTING and exceptional image Quality. While most of the...
COPYRIGHTED material. Non-exclusive display rights granted to MSD . Thousands of Royalty Free Stock Images available and UPDATED DAILY. Search and visit our Amazon...
Our products are HANDMADE and Custom Printed upon Order. Due to HANDMADE processing may take 1-2 business days. Please Visit us for more Cell phones, Tablet cases...
High quality cloth weave surface bonded to a special NON-SLIP natural Eco-Friendly rubber base to enhance precise tracking, effortless control, steady surface support...
Galaxy S5, Galaxy S6,galaxy S6 Edge Sport Armband , Nancy's Shop Easy Fitting Sports Universal Running Armband with Build in Screen Protect Case Cover Running Band Stylish Reflective Walking Exercise Mount Sports Universal Armband Case+ Key Holder Slot for Samsung Galaxy S 5 , Samsung Galaxy S6,samsung Galaxy S 6 Edge (Black)


Wireless (Deego)




Designed specifically for Samsung galaxy S 5 , Samsung galaxy S6,Samsung galaxy S 6 Edge
Exercise your right to a case is also a Sports Armband. Stays put while you run. Touch screen works through the clear cover
Built in key holder to help minimze carrying extra items while you excercise. Secure your device worry free and free your hands! Listen to your music with your hands...
Strong light weight exclusive neoprene material that protects your device.
Able to access to headphones, buttons, touchscreen feature on the cell phone.

Deego Fashion Graphic Design Hard PC Lightweight Case Slim Anti-Scratch Protector Skin Back Cover With Transparent Borders for Samsung Galaxy S4/S IV/I9500 (Bling Breakfast)


Wireless (Caseby)




Specially designed for Samsung Galaxy S4
Exposed buttons and port openings for quick and easy access
Colorful design adds style and character to your CellIphone
Secure, slim and lightweight case protects your device from scuffs and scratches
Simple, elegant, functional, the Vibrance Case features a refined design, vibrant colors, and lasting protection.
Related posts: