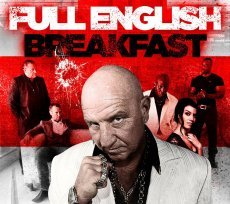 The English breakfast is a constantly recurring theme in British popular culture, but never before has a movie been named after our national dish and we are pleased to bring you news of the very first together with an exclusive interview.
The movie is called 'Full English Breakfast', is written and directed by Manish Patel, with Dave Courtney in the lead role, playing the part of Dave Bishop, one of the most murderous gangsters ever depicted on film.
Dave Courtney is a high profile British celebrity gangster (ex-gangster, now retired from a life of crime), the author of six books, the in sir pia ti on for Vinnie Jones character in the movie 'Lock Stock and Two Smoking Barrels' and famously was the Head of Security at the funeral of the notorious gangster Ronnie Kray.
We got a chance to interview Dave Courtney, writer/director Manish Patel and producer/cinematographer Ralph Stewart, we asked them questions about the movie, the theme and their love of the full English breakfast .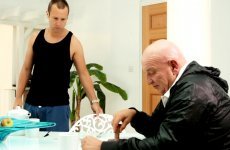 We were also lucky enough to get some exclusive screenshots of the movie that have never been seen before !
Can you tell us how popular the English breakfast is in the British criminal underworld ?
Dave Courtney : One thing about English gangsters is the fact that they love their country and its native cuisine.
I know geezers on the run overseas who pay top dollar for their favourite English breakfast (from their favourite cafe) to be flown out to them. I have personally known a villain who has flown his favourite grill chef overseas to cook his favourite grub! The chef gets a holiday and the villain gets his beloved English breakfast every day for a couple of weeks!
The English breakfast is the number one choice for the British underworld AND the police force. You need a full stomach before a hard days graft and the English breakfast works both sides of the law!
icse 10th result 2022
security courses
female entrepreneurs
solo entrepreneur
entrepreneurship brainly
ba english
new york city department of education
bilingual education
federal board of intermediate and secondary education
art training
sole entrepreneur
krowdster
rural entrepreneurship
iosms teacher transfer
induction training
kuk distance education
training gov
harvard free online courses
find angel investors
hardworking entrepreneur
dfid
mechanical engineering courses
professional entrepreneur
abc education
entrepreneurial firm
lularoe start up cost
start up pitch
millennium development goals
entrepreneur group names
need of entrepreneurship
Source: englishbreakfastsociety.com
Celestial Seasonings Tea K-Cups, Devonshire English Breakfast, 96-Count


Grocery (CAJ International)




Contains 96 K-Cups
High quality black tea, full bodied flavor, made with ingredients from Java and Kenya
Trans fat, kosher and gluten free
K-Cup perfect for Keurig Single Cup Brewers
K-cups also compatible with new Keurig 2.0 Brewer
Twinings English Breakfast Tea Bags - 50's - Pack of 2 (50's x 2)


Grocery (Twinings)




Twinings - Pack of 2
English Breakfast Tea Bags
Golden & Will Rounded
Delivery from the UK in 7-10 Days
50 Tea Bags Per Pack
Twinings(UK) English Breakfast 50 tea bags


Grocery (Twinings)




A refined traditional tasting tea to brighten up everyday.
50 Tea Bags

Mighty Leaf Tea, Organic Breakfast, Whole Leaf Pouches, 1.32 Ounce, 15 Count


Grocery (Mighty Leaf Tea)




Made with premium black tea leaves from Ceylon, Darjeeling and Assam
All-natural; uses whole tea leaves
Brews a robust, awakening cup of tea
Packaged in handcrafted silken pouches

Taylors of Harrogate, Yorkshire Tea, 80-Count Tea Bags (Pack of 5)


Grocery (Taylors of Harrogate)




Case of five 80-teabag units (400 total tea bags)
Made with a blend of teas from Assam, Africa, Sri Lanka and Indonesia
High in antioxidants; each English-style (tagless) tea bag contains 3.13 grams of tea
Rich, full-bodied blend makes an ideal breakfast tea
Teas from India, Sri Lanka, India and Indonesia; blended and packed in England
Related posts: