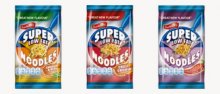 You may have seen my posts about Diet Chef recently. I only have one week left trying it so afterwards I'll be moving back over to Slimming World. Although I loved the boost Diet Chef has given me, Slimming World is a lot easier to follow on a long term basis. Simply because I find if I'm hungry I'm very quick to head for a snack. I think Slimming World is great for filling you up and I'm sure there are people that would suit Diet Chef better than me because they cope better with the controlled portions.
When I make the move to Slimming World, the meal I used to struggle with the most was lunch. I'd always use my healthy extra B at breakfast for a slice of toast and so I felt that only left me the option of salad for lunch. Although I do love a good salad now and then having it 7 days a week can get old pretty quickly. Mid-day is also the time I'm probably the busiest. Abby heads to bed around lunch time and so it's the time I do most of the cleaning and blogging.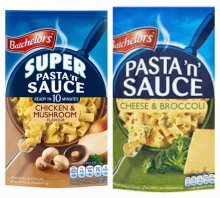 Standing in the kitchen for ages isn't something I always want. So I've compiled a couple of lunch ideas that are super quick but also super filling.
Lazy Lunches Ready in under 10 minutes!
I'm a huge noodle fan, so when I discovered that these are actually SYN FREE I was over the moon. It's only the low fat ones that are free, and the other flavors all have a syn value so be careful while shopping that you grab the correct ones.
These are great by themselves and only take 6 minutes in the microwave. If they are a little too boring, you could always add a bit of fat free bacon and some veggies and it'll be like a little stir fry.
My second lazy go to meal are another new favourite of mine! These Pasta 'N' Sauces again are from Batchelors. They only take 10 minutes to cook. Although you can actually do these in the microwave I do personally find that they are better cooked on the hob!
Remember though that these are only syn free if you don't add the milk and butter! I don't notice the difference though and they still have a nice creamy sauce! There are other flavors but they do have a syn value.
Source: www.inmybubble.co.uk
thinkThin High Protein Bars, Creamy Peanut Butter, 2.1 Ounce (pack of 10)


Health and Beauty (thinkThin)




Made with creamy peanut butter and cocoa, this delicious high protein bar is covered in milk chocolate to satisfy any craving.
20g of protein with 0g of sugar
Gluten free and low glycemic
2.1 ounce/60g bars (pack of 10)
Related posts: