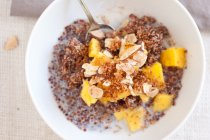 Cue the trumpets! I am pleased to present (doot dee doot) breakfast quinoa!
I came across Joy's recipe for breakfast quinoa this week in perfect timing. Quinoa for breakfast sounded satisfying and delicious, and I happened to have all the ingredients on hand: mango, milk, apple sauce, almonds and coconut. The next morning, I woke up and cooked quinoa for breakfast.
Breakfast quinoa, it turns out, is just as filling as oatmeal and as easy to make, with endless variations.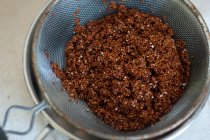 Quinoa has a nutty flavor that goes great with breakfast toppings, plus it's a highly nutritious way to start the day. Quinoa is a complete protein that's packed with vitamins and minerals.
Breakfast quinoa is a perfect way to use up leftover quinoa, and you can easily make it a vegan meal if you use almond, coconut or soy milk instead of regular milk. I'm hooked!
To cook quinoa, measure out one cup of grains, pour into a colandar, and rinse them under water for a few minutes. Rinsing removes the bitter saponins coating the outside of the quinoa. Then, pour the rinsed quinoa into a pot and add two cups water (you're going for a 1:2 ratio of quinoa and water).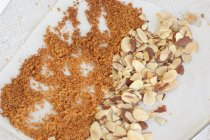 Bring to a boil, then cover and simmer for 15 minutes. Remove from heat, let sit for a few minutes, and fluff with a fork.
Some of the other breakfast quinoa recipes I've come across recommend cooking the quinoa with milk instead of water, or a combination of milk and water (e.g. this recipe on 101 Cookbooks). Emma at The Kitchn recommends cooking the quinoa with water, as usual, and then adding a cup of milk at the end and letting is cook down a bit. Both methods sound delicious, but I like using leftover quinoa for other recipes, so I cooked my quinoa with all water. I just poured milk into my bowl when I was ready to eat quinoa for breakfast.
Per Joy's recommendation, I toasted sliced almonds and unsweetened coconut in the oven. It's an unnecessary step if you're in a hurry. Almonds and coconut are good, toasted or not!
Source: cookieandkate.com
Related posts: