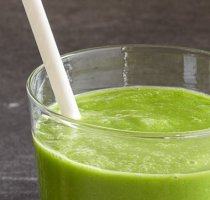 Sometimes you reach for your Vitamix blender and discover that the fruits and vegetables in your refrigerator don't quite match the ingredients of the green smoothie recipe that you had in mind. We've created a mix and match guide to help you blend the fruits and vegetables you have on hand and create your own custom green smoothie.
Choose one item from Column A, two from Column B, and one from Column C.
Place all your ingredients in the Vitamix machine, liquid first, then soft ingredients, then firmer ones.
Add one cup of ice last.
Secure the lid and select Variable 1.
Turn machine on and slowly increase to your machine's highest speed.
Blend for 45 seconds or until smooth.
Drink and enjoy.
Column A (Choose 1 Item)
2 cups spinach
1 cup kale 1/2 head of romaine 1 romaine heart 3/4 cup raw broccoli 1 small head of Bibb or Boston lettuce
Column B (Choose 2 Items)
1 cup grapes
1 apple
1 orange, peeled
1 cup melon, peeled
1 cup pineapple
1 cup berries
1 banana, peeled
1/2 cup cucumber, peeled or unpeeled
1 kiwi, peeled
1 carrot
1 cup peaches
1 cup mango, peeled
1/2 cup papaya, peeled
2 stalks celery
1 pear
Column C (Choose 1 Item)
1 cup soy milk (plain or vanilla)
1 cup yogurt (flavored or plain)
1 cup fruit juice
1 cup water
Source: www.vitamix.com
VonShef Professional Powerful Wide Mouth Whole Fruit Juicer 700W Max Power Motor with Juice Jug and Cleaning Brush


Kitchen (Designer Habitat Ltd)




Voted by Great British Food Magazine as one of their Top 5 Juicers on the market, if you re looking to lose weight, give fitness levels a boost or just improve your...
High quality Stainless Steel finish and contemporary sleek design instantly enhances the look of any modern kitchen. Features a large 70oz detachable pulp container...
700W maximum power motor is big on performance but low on noise - much quieter than many other models currently on the market. Robust Stainless Steel blades work...
Impressive 2 speed rotary dial lets you juice at 14 rpm or 18, perfect for both soft and hard fruits. Large chute can process whole fruits and vegetables without...
Easy to clean - all removable parts are dishwasher safe for convenient juicing and minimum fuss
Related posts: