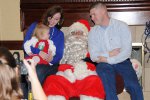 FORT RUCKER, Ala. (December 20, 2013) - With Christmas just around the corner, children had one last chance to get into Santa's good graces and let the big man in red know what's on their holiday wish list.
The Landing hosted Breakfast with Santa Dec. 14 as a way to get Families to make a memory out of a meal, according to Rachel Murphy, The Landing promotions and marketing assistant for business operations.
"Not only is this event a way to make and capture memories, it's an opportunity in the busiest season of the year to take a seat at the table with Family and friends without the hassles of cooking and cleaning up, " said Murphy.
People were treated to a buffet-style breakfast that included eggs, bacon, hash browns, pancakes, ham, biscuits with gravy, assorted fruits and more.
"Breakfast with Santa is an opportunity for the military community to come together, and not only enjoy pictures with Santa, but a breakfast surrounded by fellow Soldiers and Family members. It is events like this one that encourage Families to reach out and meet their neighbors, and make new friends over the holidays, " said Murphy.
CW3 Keith Cox, F Company, 1st Battalion, 212th Aviation Regiment, came out with his wife, Holly, and two children, Aaron and Avery, who asked for a scooter and roller skates.
"I think this is a great event, " said Keith. "It's very well put together and the kids are certainly enjoying it."
Keith said he and his Family try to attend most of the events that the post puts together, and Holly likes to take these opportunities to bring her Family closer together.
"I think these events are wonderful and they really help to bring us together and celebrate the season, " she said.
Stacy Jones, civilian from Daleville who brought her two boys, James and Damen, agreed.
"I just love being able to bring my children to see Santa, " she said. "They're still at that age where all of this is still so magical to them and for them to see Santa come so close to where they live just lights up their eyes. I know that it's things like this that become such big memories for them."
Along with visiting Santa for Christmas, the Cox's also participate in their own Family traditions around the holiday season.
"We do a countdown where we let the kids do different activities every night, like reading a book or different things like that, " said Holly.
The Cox's aren't the only ones who have their traditions, though. The Jones Family have their traditions as well.
"We have one tradition that I think a lot of Families do, which is we get to open one present on Christmas Eve every year, " she said. "I think that's the one tradition I look the most forward to every year because out of all those presents you only get to pick one. The anticipation builds up and just makes it that much more fun. All of these traditions and Santa make for one great holiday season and I couldn't be happier."
Source: www.army.mil
Related posts: