Vocational education is integral to the development of the region. Countries such as Singapore, Finland and Australia offer outstanding case studies of its impact on economic growth. It is, therefore, imperative for industry to continue regarding vocational training with a positive outlook, according to Richard Barrett, Director, Consulting, Deloitte.
Barrett added: "Quality vocational education can provide an essential springboard for ambitious young people by offering practical skills and experience that employers value. Equipped with these skills, the youth can look forward to a promising career. However, it is imperative that vocational education remains flexible to help adults acquire new skills amidst the changing technology and economic landscape. Additionally, well-informed, impartial career advice and guidance is central to ensuring individuals make informed choices."
Barrett's comments came during a panel discussion titled 'Is there a Future for Vocational Education in the Region?'. The event was organized by Dubai Knowledge Village (DKV), a member of TECOM Investments' Education Cluster and the region's premier destination for human resources management as part of the DKV Breakfast Club, a biannual networking event for decision makers. Moderated by Eithne Treanor, CNBC, Special Correspondent, the discussion included speakers Dr Naji Al Mahdi, Executive Director, National Institute for Vocational Education; Dr Howard Reed, Director, Dubai Women's College and Senior Director, Higher Colleges of Technology; John Dennehy, Director, Educational Services Division, International Development Ireland (IDI), and Dr Abdullatif Al Shamsi, Director-General, Institute of Applied Technology.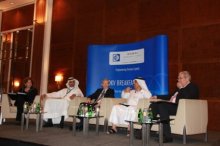 Defining the meaning of vocational education in the UAE, Dr Howard Reed said: "Vocational education includes professional programmes such as business and law, technical courses such as IT, and services, especially health services. Once we deviate too far from these areas, the demand for 'vocational education' among Emiratis will probably remain small. Here, stakeholders in key industry segments are faced with the question about why Emiratis do not join the private sector when it is said to provide the majority of new jobs. Furthermore, policy makers need to identify what would motivate Emiratis to take up occupation in the private sector in the professional, technical and service industries."
Source: www.kv.ae
PicOnTshirt Funny Matching Couple Lover Novelty T-shirts Men XXL / Women L Design 163


Apparel ()




Basic Tshirts For Couples to Have Fun.
High Quality Circular Knit (vortex), Blend Fabric For Long Lasting Vivid Colors And Fit. You Can Wash & Dry As You Like. Double-Needle Stitching on Sleeves and...
You Can Ask Up To 10 Words For a Special Tag Right After The Order. Please Send Message By Clicking On Contact Seller Within 1 Hours After Your Order. Later Messages...
Please Check All Other Images For Color/Knit/Sticthing/Fabric Details to Understand and Select Right Size for the Product You Buy.
Also Check Other Models By Clicking picontshirt Text Above The Product Name.
Melissa & Doug Bake and Decorate Cupcake Set


Toy (Melissa & Doug)




Made using the highest quality materials
Tested to be safe and durable
Great fun for your baby and child
Special wipe-off cupcake tops
3 dry erase markers in the shape of icing tubes
Includes durable cardboard baking cups, decorative wooden candles and flames
Also includes icing tops and an oven mit
Exceptional quality and value
Melissa & Doug Celeste 14" Princess Doll


Toy (Melissa & Doug)




Made using the highest quality materials
Tested to be safe and durable
Great fun for your baby and child
14 Princess with tiara and fun-to-style hair
Poseable arms and legs
Soft, smooth, baby-powder scented vinyl
Measures 15 x 6 x 4.5 packaged
For Ages 3+

Royal Lion Golf Shirt I Don't Do Mornings Cat - Medium


Apparel ()




Lightweight Golf Shirt
5.5 oz preshrunk 60% cotton 40% polyester pique
Resists wrinkles and shrinkage; Three white pearl buttons

Truly Teague Golf Shirt Kick'n Chick'n Martial Arts Baby Chick - Medium


Apparel ()




Lightweight Golf Shirt
5.5 oz preshrunk 60% cotton 40% polyester pique
Resists wrinkles and shrinkage; Three white pearl buttons
Related posts: